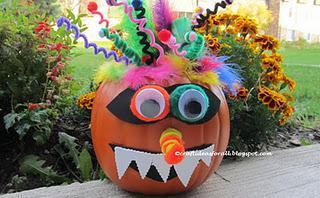 Like
last year
this year also we participated in the Pumpkin decoration activity for kids, organised by
Michaels
My 3.5 yr old daughter was so excited for the event. She just could not wait for the event to begin. You have to buy the pumpkin and they will provide the supplies and parents or care taker has to help out kids.
This crazy pumpkin design is 100% her own creation. I guess she was actually inspired by the one they kept for demo purpose. But the color combination and the eyes are all her imagination.
She had a blast making this one. It took a long time but considering her age I guess that was expected.We were very happy to see her happy.
Supplies you will need:
-Faux pumpkin
-Self sticking Foam sheets-black and white
-Pom Poms different sizes, different colors
-Google eyes :Jumbo size
-Chennile stems or pipe cleaners
-Safety scissors
-Pinking scissors
-craft knife
-Tacky Glue
-Feathers various colors
-Pencil/marker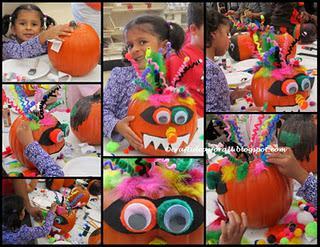 Step wise instructions on how to make this Incredibles inspired Crazy Pumpkin
1. On a self sticking black foam sheet draw the shape of the eye mask. Cut it.SHould be done by adults or may be Adult supervision if the child is used to cutting.
2. Similarly on a black self sticking foam sheet draw the smile of the pumpkin.Cut it.
3. On a self sticking White foam sheet draw pointed crazy teeth and cut with pinking scissors or normal scissors are also fine.
4. Use tacky glue to stick pompom. For the rest of it normal glue is also fine.
5.Stick the feathers, google eyes etc.
6. For the crazy curly hair, roll the chennile stems or pipe cleaners on a pencil or marker and take them out.Some kids need Adults help to do this till they get hang of it.
7. At the end of the curly hair, just insert a little pom pom of contrasting color.
8. To insert the chennile stem hair, use something pointed to make hole, like pointed scissors or craft knife. Adults should make the holes and let the kids insert the hair.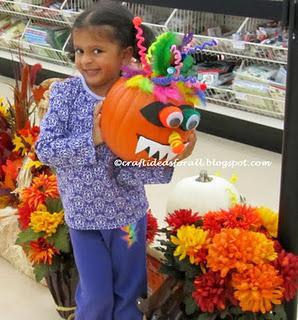 Use you imagination to make it more crazy or different crazy. The possibilities are endless.
Have fun.
Happy Halloween!!
.
Tips
:
-Use tacky glue in moderation. Works really well with little amount and sticks pretty quickly.I loved this one as kids get frustrated when things take time to stick.If you take too much tacky glue it will take longer time to dry and hence does not serve the purpose.
-For making hair, little kids might get tired, Adults please help them. Little hands get tired pretty quickly.