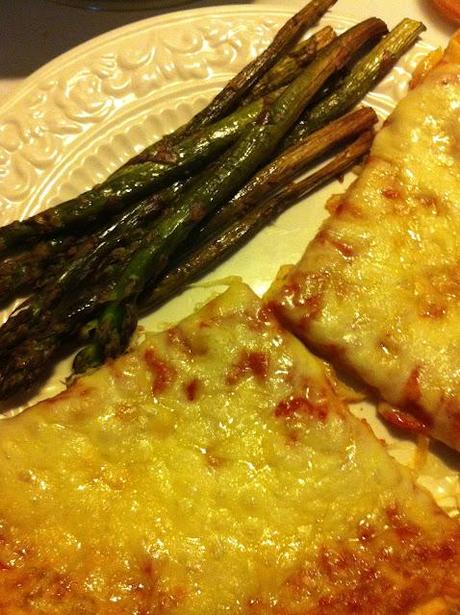 Thursday is my work week's Friday, and I was overcome with desires for carbs yesterday!  I compromised with my heart's longing, and made an "Against the Grain" gluten-free pizza.  It is by far my favorite pizza!  It is bendy, and crispy just at the edges - with a macaroni and cheese flavor to it.  It is the ultimate comfort food pizza in my book!  I bought some purple asparagus(it was beautiful) and wondered if it would taste different... it was really really good asparagus!  It turned the usual green color when it cooked - interesting and tasty. 
I am really looking forward to the sunshine that is forecasted here this weekend!  It is supposed to be sunny and in the 70's(fingers crossed).  My hope is to get the garden planted - what a perfect way to celebrate Earth Day, don't you think?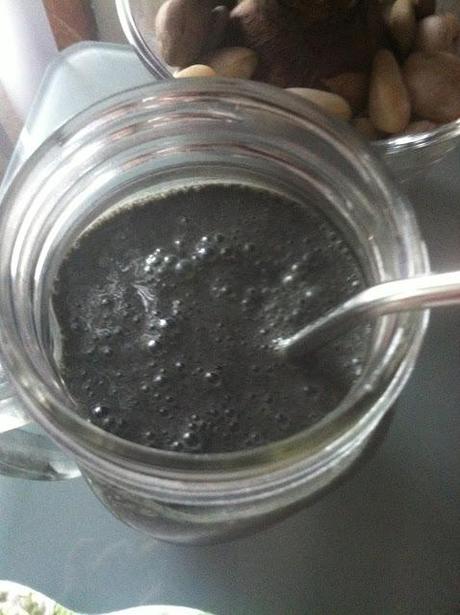 This morning's smoothie:
-2 cups spinach
-1 cup wild blueberries
-1 banana
-1 scoop protein powder
-3/4 cup almond milk
I woke up actually craving my smoothie today!  I also obsessed over the thought of some coffee - shocker I know.  My rule of thumb for cravings is usually to wait one week - if I am still craving it, then I have it - or something similar to it to satisfy the want.  I am going back and forth about coffee - and whether to give in or not.  I am considering making decaf a part of my everyday routine to see if that satisfies the urge.  I think coffee is perfectly fine, it's the caffeine I can do with out.  It tends to add to my anxiety, sugar-cravings, and irritability - partly because I don't drink just one cup.  Moderation is always the goal I strive for, but it's important to know which foods I can't moderate so well. 
I want to hear your coffee talk people!  Do you drink coffee?  How do you drink it?  Have you ever been "addicted" to it?  Do you think it affects other areas in your life?  If you were addicted, have you learned to moderate?  Please share!