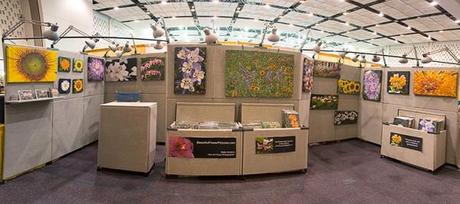 Bill and I will be at the at the Craftsmen's Classic Art & Craft Show at the Dulles Expo Center in Chantilly VA this weekend October 18 – 20, 2013. For those of you who don't know Bill – he's my wonderful husband (and an excellent photographer) Bill Lawrence. And my booth is going to look very different this weekend than it has in recent years.
Several years ago – when Bill and I started doing craft shows – including the Craftsmen's Classics at Chantilly – we showed our photographs together – and our photos included everything from flowers to landscapes to wildlife to monuments of Washington DC. Our Washington DC were some of our best selling images. A few years ago, Bill stopped doing shows – and I switched to just showing my flower photos.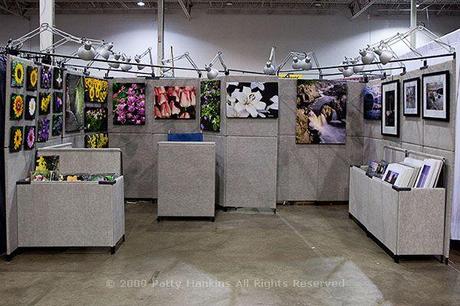 Booth circa 2009
For this only this one show in 2013 – we're bringing back our classic Washington DC photos – and introducing several new ones. If you'd like to take a look at our Washington DC photos – you can see them on our new website BeautifulDCPictures.com
In addition to our open edition Washington DC photos, Bill will have several photos from his new Instant History series available at the show. Many of these photographs are taken on a Graflex RB Super D camera (from the 1950s) using Fuji Instant Film. Since these are instant prints – no two photos are exactly alike. Each photograph is presented in a hand-cut mat, signed and numbered 1/1.
Here's a sneak peak at one of his photographs of the U.S. Marine Memorial from his Instant History series.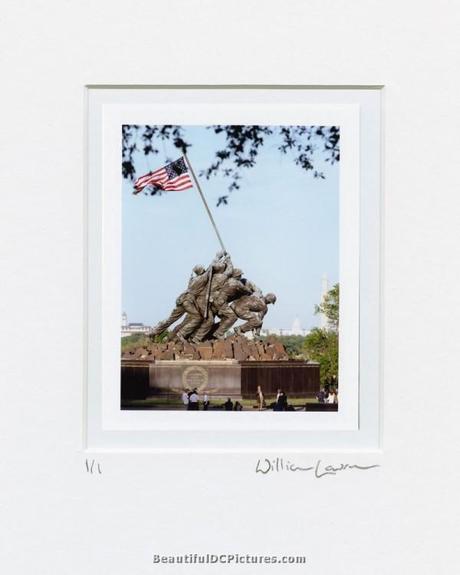 Show hours are Friday October 18 – 10 AM to 6 PM, Saturday October 19 – 10 AM to 6 PM and Sunday October 20 – 10 AM to 5 PM. We'll be in booth 3820.
Directions, discount tickets and other information is available on the show website.
Hope to see you in Chantilly at the Craftsmen's Classic this weekend.