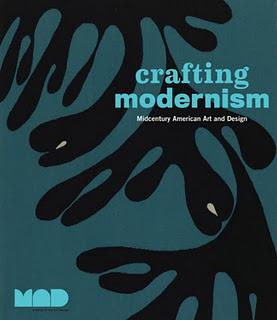 The highly anticipated exhibition "Crafting Modernism: Mid-century Art and Design" finally opens this week (October 12th) at the Museum of Arts and Design in New York.  The show will examine the development of crafts in America following War World II all the way through its heydays in the 1960's. This is not a biased show by any means, objects made from all media will be presented to give the viewer an absolute overview of what was being created out of wood, clay, glass, metal, fiber and other materials.
Based on what I have seen in the show's catalogue and website, one can expect to see the best from furniture makers like Paul Evans and Wendell Castle, jewelery by Merry Renk and Margaret de Patta,  ceramics by Gertrud Natzler, metal objects by John Prip, and textiles by Jack Lenor Larsen and Sheila Hicks, just to throw a few of the big names out at you.
Full disclosure: I am a big fan of the show's curator Jeannine Falino. Hailing from New England, Falino is a leading specialist on American decorative arts and contemporary crafts.  I met her several years ago when she visited a gallery that I worked for to look at our fabulous Paul Evans Sculpted Steel Console. While the console did not make it into the show, Jeannine and I have been friends ever since.
This exhibition is a major contribution to the study of crafts in America and the catalogue is a must-have for anyone interested in the subject. It is now available for sale through the museum's website.  I feel very privileged that Jeannine asked me to contribute to the catalogue.
For anyone who is unable to make the trip to New York to see the show, I highly recommend checking out the show's blog for a behind the scenes look at the exhibition. You can visit the blog here.
Finally, the museum is organizing several interesting events in conjunction with the show.
Thursday, October 13, 2011 

Conceptualizing Crafting Modernism
Crafting Modernism: Gallery Tour
6:30 pm
Explore the newly opened exhibition with Curator Jeannine Falino, Associate Curator Jennifer Scanlan, and artists as your guides providing insight into the creative and studio processes that utilized the rich interplay of art and design in craft media and its development within a changing American culture.
Directly after the Gallery Tour join the curator and artists in the MAD Theater for:
LECTURE: Legendary Artists in Crafting Modernism
7:30 pm
Join us for an informal conversation with artists whose works are included in Crafting Modernism. Hear about the odyssey each took to become a master of their medium during the heady, early days of the studio craft movement.
Saturday, November 12, 2011 - 3:00 pmThe Return of Modernism Free with Museum Admission; The Theater at MAD During the mid-twentieth century, American Modernism, as practiced by such  fabled designers  as Russel Wright, Eero Saarinen, and Charles and Ray Eames, became emblematic of a hopeful new humanistic, but industrial society.  By the end of the century, however, its glow—and that idealistic vision of the future--had faded. Some 60 years later, midcentury Modernism is enjoying a second life. Which raises the question, Why now?  Five experts, including participants in the original design revolution and others who are involved in its revival, will take a look back–and forward–to offer answers to this provocative question. Panelists include Vladimir Kagan, Jack Lenor Larsen, Evan Snyderman of R Gallery, a gallery specializing in mid-century design, and Anna Hoffman, design history columnist for Apartment Therapy.
Moderated by Judith Gura, Professor of Design History at the New York School of Interior Design.
Thursday, December 1, 2011 - 7:00 pm
This Modern Life: Craft in the Midcentury Interior
Free with pay-what-you-wish admission, 6th floor - public programs room, MAD The handmade object became an important element in the midcentury interior, from pottery that served as accent pieces, to natural wood furniture of designers like George Nakashima, to completely artist-crafted interiors. Crafting Modernism Curators Jeannine Falino and Jennifer Scanlan will lead a tour of the exhibition, followed by a short presentation of the ways in which craft entered the home in the postwar period, adding a human touch to rooms filled with industrially produced furniture.