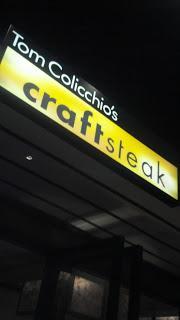 Craft Steak by Tom Colicchio Review.  Some things are simply worth the money. Even if it is a LOT of money. Tom Colicchio's craft steak is one of those things. 
Even in a down economy, the craft high-end line of elite restaurants seems to be ever expanding. When we first found the craft line back in 2008, there were only three restaurants, craft bar in New York and two craft steaks; one in Las Vegas at the MGM Grand, the other at Foxwoods Casino in Connecticut.  
Now there are eight craft restaurants. Although most are in New York, this still tells us something about a quality and price as the chain seems ever expanding. Whenever we go to craft steak, we expect to spend about $200 a person. However, we always leave having enjoyed a meal which we rave about for months after savoring our last bite of steak.
A bit of a warning - Just like with good 18-year old scotch, your pallet is ruined for the cheap stuff. So, if your current favorite steak restaurant is someplace like

Applebee's

, it is best you never try craft steak since everything else will taste like rubber.  Nothing against Applebee's but your average 

restaurant,

 and even "great" steak houses, pale in 

comparison

.  
As we mentioned, the prices are on the high-end of our yearly restaurant budget. However, this place is so good that we use the term "craft steak" as a verb describing other restaurants or businesses. For example, to us, Ruth's Chris is "not as craft steak as craft steak" or The Cosmopolitan in Las Vegas "is the craft steak of hotels".
When looking at the reviews of other restaurants, some patrons may boast that the meal was "better than craft steak". These people likely never ate at craft steak, were compensated for their reviews, or simply work for that other restaurant. We followed this last trip to craft steak in Las Vegas with a trip to Mario Batali's restaurant B&B Ristorante in the Venetian. Although there were some good qualities at B&B, the Rib Eye for Two was not one of them. The waiter sold us on the aging process and tenderness of the meat, yet when it arrived and we took that first bite, we were sadly disappointed even with the relative smothering of some really aged olive oil and balsamic.  However, do try the Grilled Octopus.  It is the craft steak of octopus... see.
We want to like other steak restaurants, we really do. We simply have not found one which even comes close to craft steak. We have visited both of the craft steak locations (Vegas and Foxwoods) and both are on par with expectations, quality, and service.  
At craft steak, even the Brussels Sprouts are good. Seriously.  
If they did a tuna sandwich, we are sure it would be the best tuna sandwich we ever ate. As an example of this, one of our friends simply hates scallops. One bite three years ago and she is now a scallop lover. Not any scallop lover, no, just a craft steak scallop.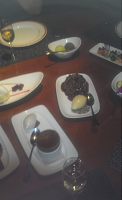 Desserts!
During our latest trip, we tried the Domestic Wagyu tasting menu, at $140 per person with the additional $45 wine pairing and it is still simply worth every penny. Their signature skirt steak is always a table favorite and we do not know how they do it. The skirt is supposed to be one of the worst cuts of beef, left mainly for Mexican fajitas or Chinese stir-fry, yet craft steak serves it so deliciously we have changed 
die-hard
 "well done" people to medium-rare steak lovers.  
Dessert is something to crave at craft steak, so save room for some of the best desserts in the business. Take a look at the ones pictured here. We wish we took the time to take more pictures, but we were simply too deep in enjoyment of our desserts to take more time out of our dining experience with silly photos.
Have a craft experience? Share it with us below!