For day 2 of our fabulous 1st Birthday Party, we are featuring the first of our party-themed guest posts. This one deals with the vital topic of sourcing beer for your party.
For this all important subject, I asked blogger and prolific beer drinker Jonathan to share his wisdom.    
Yesterday we showed you how to make cake bunting from washi tape and launched our Pinterest competition plus the first of our Instagram giveaways. 
But for now, over to Jonathan: 
Booze at parties. Pretty straightforward, right? Think back to the parties you've attended. What have you taken with you? A bottle of fizz or wine, perhaps? Even better, some decent gin or vodka to add to the drinks cabinet? I'm assuming you're not one of those people who turns up empty handed.
Now think about the parties you've hosted? Here's where it starts being a bit more fun. Have you constructed a mini-cocktail bar, mixed a bowl of punch, maybe hidden a bottle of prosecco away with a view to opening it at midnight? We meet up, socialise and party for a number of reasons, but, the odd baby-shower apart, how often do we do so without a single drink in the house? Thats OK - there are few greater pleasures than chinking glasses and saying 'cheers' with your closest friends. Or than getting plastered and dancing to Lady Gaga.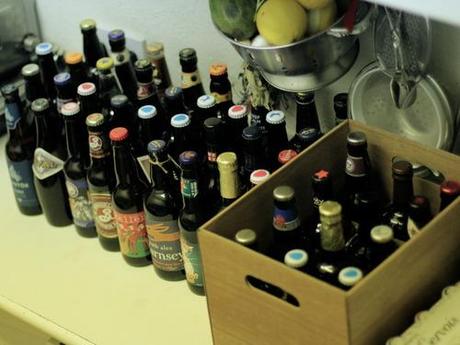 Chances are you've never been to a party where no-one's had a beer, either. But there's not so much to get excited about here. We've all traipsed around the flat after a party, picking up discarded cans of Kronenbourg and marvelling at how often they still contain beer or, worse, cigarette butts. The mental image lacks colour; a host of people drinking lager from identical cans. I doubt when you think about a party that's the image that drives you to host one.
What a collective lack of imagination we show. Beer is the perennial party after-thought. It's what we buy in bulk at the supermarket to augment the careful preparations we've put in. Everyone's got a friend who mystifyingly strolls past the cocktail cabinet and opens the fridge door looking for a Stella.
Here's what makes the above especially ludicrous. Beer is absolutely bloody marvelous. For range, depth of flavour, complexity and nose, it easily matches wine and spirits, and presentationally it's increasingly beautiful. Moreover, it's perfect for sharing. The problem is that we buy the wrong stuff. Walk down the aisle in Sainsburys or Morrisons and the choice is endless; endless bland labels and bland products. But the world of beer has changed, it's just that the supermarkets are only slowly catching on.
Put aside your prejudices for a moment. Right across the world there are small, exciting, modern breweries who are making beer that would absolutely knock your socks off. Rich, hoppy American style IPAs which taste like exploding grapefruits; fragrant, floral ales that taste like thrusting your face into a pile of freshly cut grass. There are beers that taste of peaches, pine, berries or bubblegum. There are beers with glorious, nutty, figgy aftertastes and clean, dry pilsners that cut across the tongue with the precision of a razor. Until now it's been hard to get stuff that tastes this good, which is why we're so often stuck with cooking lager. But times are changing and it's now possible to add to your party preparations a sweep of stunning drinks that 'til now have been off the menu.
How to buy good beer.
1. Don't rule the supermarket out.
Somewhere between the boxes of lager and the old fashioned bottles of ale your dad used to buy will be a selection of very decent beers. They'll likely be American or European. Here's a quick run-down.
-Sierra Navada, Brooklyn Lager, Anchor Steam, Samuel Adams, Blue Moon
These are all pretty great. Don't be deceived by the word lager. In the world of supermarket, these delicious beers have their flavor dialled up to 11. Brewed in the US using hops a world apart from the ones we grow in the UK, they're intense, fruity and bitter.
- Leffe, Vedett, Erdinger, Duvel
A host of European beers which knock most supermarket beers into a cocked hat. Stylistically different, ranging from spicy and nutty to cloudy and herbal, these are excellent, fascinating drinks.
- Brew Dog Punk IPA / 5am Saint
The standard bearer of Craft Beer's explosion into the mainstream, the bright, modern, irreverent branding of Edinburgh's Brew Dog hints at the incredible depth of flavor being brewed under the mainstream's radar. Try these if you see them. They're strong, rich, and pack a real wallop. There's better stuff out there, but not on the shelves of your supermarket.
2. Seek out a decent off-licence.
You'll be amazed at the variety. And because craft beer is more adventurous, colourful and unconventional than trad beer, it's usually easy to spot the ones worth trying, courtesy of their wonderful bottle designs. Here are a few which you should look to snap up as soon as you see them. For the most part, the brewers who make the best stuff brew a dazzling array of varieties, so keep an eye out for breweries as much as product names.
Anything by Kernel, Partizan, Thornbridge, Magic Rock, Meantime, London Fields, Siren, Beavertown, Camden Town Brewery
A range of British breweries, mostly based in East London, the above breweries all make hugely flavourful beer. Beware of alcohol content for these; in the world of craft beer ABV percentages of around 6-8% are quite standard, and this isn't beer designed to be drunk out of a pint glass. Serve in small measures and encourage your friends to compare and contrast, as if comparing wines. The depth of flavor and detail in the styling demands close attention. Be careful pouring as these beers are often bottle-conditioned, meaning there'll be some cloudy sediment at the bottom. Leave it in the bottle. If you only want to try one of these, go for one of the Kernal IPAs; they're staggering.
Their US cousins are Red Hook, Flying Dog, Odells. In particular look out for Flying Dog's 'Raging Bitch' and Odell's '5 Barrell Pale Ale'.
3. Lastly, buy some cool stuff online.
There are a number of brilliant beer website that sell wondrous, odd, off-piste beer. Why not start with Beerhawk, who offer some great bundle deals. (The American Discovery collection is pictured below).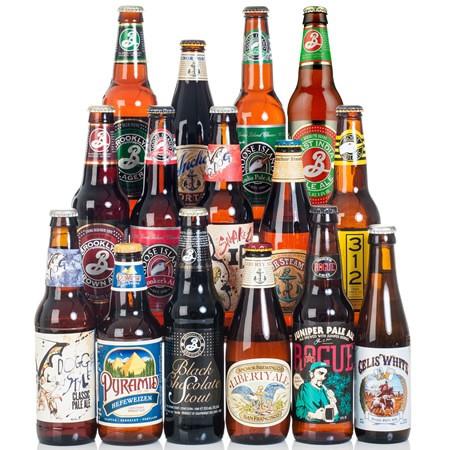 (some other great online retailers worth visiting; beerbods, beers of europe and ales by mail).
At this point, it's worth talking a little about price. Good beer, like good wine, isn't cheap. It may seem at first like a waste of money when generic lager is so cheap, but in terms of flavor it's like comparing a piece of cheddar with a chunk of parmesan. They're not the same thing so don't pretend they are. Good beer is there to be savoured, not downed and vomited back up. A 3 quid bottle of beer will last a lot longer than a can of Grolsch, and taste a lot better too. The higher alcohol content should mean your guests know to stop a touch earlier than they otherwise might, too. If they don't, remind them.
Here are some of my favorite beers, and at the top of this post you can see a photo of the bottles we laid on for a recent party. (Don't worry, there were plenty left over).