There have been whispers that the screws will tighten on any opposition groups in Russia after the Olympics and some say that it may have quietly started.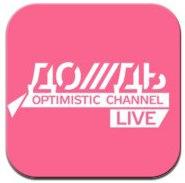 TV Rain, the only independent television network remaining, was just filed with an investigative intent over its recent coverage of the anniversary of the liberation of Leningrad. "Rain" did a fine job on the coverage but the Kremlin is apparently angered about a poll they ran at the end. The poll simply asked if Leningrad leaders had made the right decision to refuse to surrender or at some point should they have surrendered in order to stop the starvation and suffering?
In reality the order to hold the city at all costs came from Stalin, not the local city leadership. While such a poll would seem fairly innocent in the West, people could express their opinion and as observers in hindsight most will have an opinion one way or the other, but that was too much for the censors to fathom. Two large cable systems loosely affiliated with the Kremlin have just dropped Rain programming and that cuts their audience size substantially.
A couple more cuts like those and Rain simply won't have an audience base. You can view some programming online: http://tvrain.ru/
TV Rain is not the only media outlet running a poll on the Leningrad siege; the government controlled Russia Beyond the Headlines is continuing a similar poll on Leningrad.
Alexei Navalny was arrested yesterday morning outside Zamoskvoretsky Court in Moscow on charges for his role in leading past opposition protests, including the case regarding an opposition meeting on Bolotnaya Square on May 6, 2012. New Russian laws hold opposition leaders accountable if the meetings involve violence against other persons and/or police (Article 318).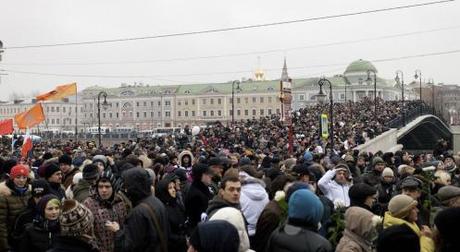 Bolotnaya mass protest. (photo: urixblog)
Four of the initial twelve charged in regards to the Bolotnaya case were released under the amnesty law prior to the Olympics. The remaining eight defendants were sentenced to jail time as follows:
- Alexandra Naumova, suspended sentence of 3 years and 3 months.
- Andrei Barabanov, 3 years and 7 months.
- Sergei Krivov, 4 years.
- Yaroslav Belousov, 2 years and 6 months.
- Artem Savelov, 2 years and 7 months.
- Stepan Zimin, Denis Lutskevich and Alexander Polikhovich each will serve 3 years and 6 months.
A large crowd waited for the verdict and Moscow police say they detained approximately 200 citizens for holding a public meeting without a permit.
Later in the day investigators opened new criminal charges under Article 212 and Article 318 against Navalny.  Article 212 allows Russian authorities to press charges to anyone who promotes and advertises mass protest meetings.