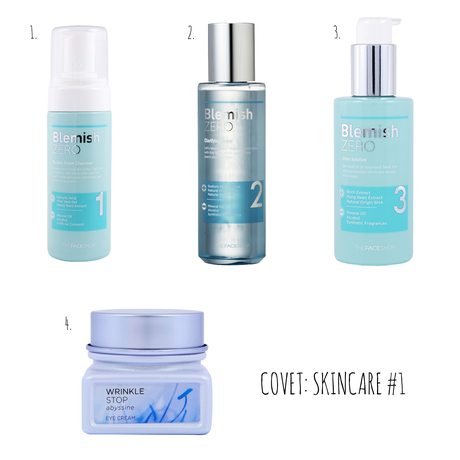 The Face Shop's Clean Face Blemish Zero Bubble Foam Cleanser // The Face Shop's Clean Face Blemish Zero Clarifying Toner // The Face Shop's Clean Face Blemish Zero Clinic Solution // The Face Shop's Wrinkle Stop Abyssine Eye Cream
Sorry for the lack of updates or even blog post. Been under the weather. =( So today is the day I decided to do a blog post even though I am still under the weather. Something I've been coveting for the past few months. I think some of the readers might notice my obsession with The Face Shop's skincare products. Yes, I believe in them. I trust them. The top 3 listed above are comparible to the Clinique 3-Step system, which I've heard of. I've been breaking out a lot lately hence its in my covet list. The eye cream in needed in the list too. Been needing better eye cream than the one I have now.
Anyway, for all my readers, Shu Uemura USA are having a sale! 10% off if you click on this link HERE and include this code SHU4BLOG. Free shipping with ANY order too!! Valid until the 31st of August. Hurry up! Too bad for me because I don't live in the states.
♥ ♥