Instead of baking today's breakfast menu, i fried.
I fried up country fried steaks and some homemade fries.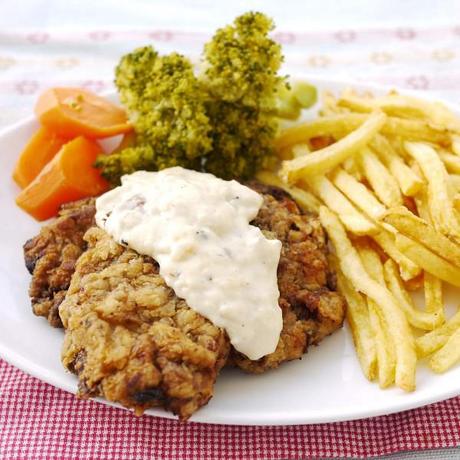 I used minute steaks for the erm.. steaks (duh). Minute steaks, or also known cube steaks is a pre-tenderized cut of beef. Its surface is pockmarked from all that pounding with a mallet. This cut of beef is thin and cooks quickly, which makes it perfect for this occasion.
Then we had the homemade fries, and the over-used carrots and broccoli (i so need to find alternatives for my choice of veggies).
The potatoes were first cut into shoestrings, then soaked with ice water for about an hour. They were then fried once till pale and blond, let to rest on paper towels, and re-fried again just when they were about to get served.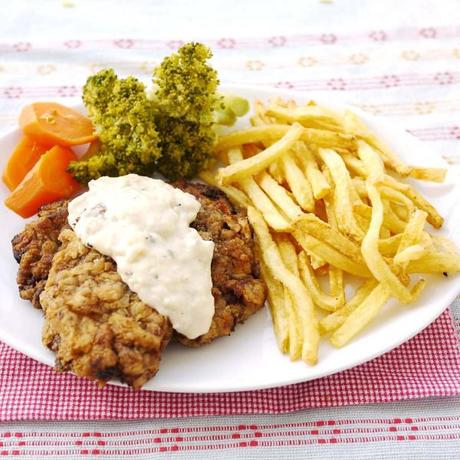 Together, they made a really really satisfying and filling breakfast set. They HAD to be good, for the sake of all that mess and oil splatters in my kitchen. *wipes sweat from brow*
Country fried steaks and milk gravy
Recipe taken from Allrecipes.com
Ingredients (yields 4 servings)
4 (4 ounce) cube steaks
1/2 teaspoon salt, divided
1 3/4 teaspoons ground black pepper, divided
1 cup all-purpose flour
2 eggs, lightly beaten
1/4 cup lard
1 cup milk
Directions
Season meat with 1/4 teaspoon of the salt and 1/4 teaspoon of the pepper; set aside. In a shallow dish, mix flour with 1 teaspoon of the pepper. Dredge each steak in flour. Dip in beaten egg, then dredge in flour again.
Heat lard in a large, heavy skillet over medium-high heat. Fry steaks 3 to 4 minutes on each side, or until golden brown. Drain on paper towels.
Pour off all but 2 tablespoons of the fat. Sprinkle 2 tablespoons of the dredging flour into oil. Cook over medium heat for 1 minute, scraping up any browned bits from the bottom of skillet. Gradually whisk in milk. Cook, stirring frequently, 3 to 4 minutes, or until thickened and bubbly. Add 1/4 teaspoon salt, and 1/4 to 1/2 teaspoons pepper; gravy should be quite peppery.