Same-sex couples are being urged to enquire about adopting a child, as it emerged only two have been placed in the last five years – despite 50 children currently waiting for a loving new home.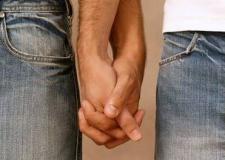 The figures, revealed following a Freedom of Information request, show one same-sex couple adopted a child in 2009 and another in 2011. Three couples are currently waiting to be placed with a child.
Councillor Graham Newman, portfolio-holder responsible for young people, said one of the barriers is same-sex couples lacking the confidence to come forward as potential adopters.
"It's certainly true that the number of same-sex couples adopting children in Suffolk is low," he said. "In our experience, this is because same-sex couples do not feel confident about coming forward as potential adopters."
He said the council has run recruitment campaigns to help encourage lesbian, gay, bisexual and transgender people to think about adoption and fostering. "We know the lesbian and gay community is a significant and untapped resource of potential adopters and foster carers and it's important for us to explore those opportunities.
"Changes in the laws have made it easier for same-sex couples to adopt and we are seeing more interest as a result," he said. "The most important thing is offering children a loving and safe family environment to grow up in."
Read the Full Article Here