Cosmopolitan Blogger Awards 2012:
Shortlist! You may already be aware of the above mentioned shortlist in the Cosmopolitan Blogger Awards 2012, however what you may not know is that Vita di Moda is in the running to take the title of Best New Fashion Blogger! I know, I can hardly believe it myself.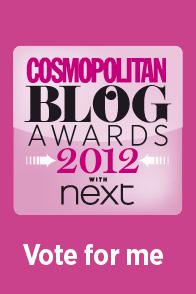 Whilst checking my weekly traffic, I noticed a few hundred hits coming from Cosmo's website. I wondered how that could be, so I clicked on the website and almost jumped through the roof - shortlisted...Vita di Moda! It's insane. I'm over the moon right now!
The shortlisted few in my category are:
Emily Divine, Fashion Fade, Girl In The Lens, It's a LDN Thing, Logan's Runway, London's Closet, Lulu Trixabelle, My African Closet, Pret-a-Reporter, South Molton Style, Style Me Curvy, The Little Magpie and Vita di Moda.
Now, here is where I need you to help me: Can you do me a huge favour and vote over on the website? It'll ask you to vote for someone in each category, all I need you to do is choose Vita di Moda in the Best New Fashion Blog section. It would mean the world to me if you could do this. 
VOTE HERE!
Thanks!