This past summer we had the chance to film a pretty sweet Mason Jar Session with one of Canada's best young talents Cory Marquardt. There is no doubt in my mind that Cory is one very talented individual. He released a new video to CMT on Monday and we want to share it with you. Here is his current single Nowhere With You.
And if you want to hear a killer acoustic version crank this one up!
Corey Kelly / @CoreyKelly76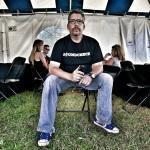 Well if your reading this you must really be bored... So I was born and raised in a small town and have a thirst for good Canadian Whiskey and amazing Country Music.