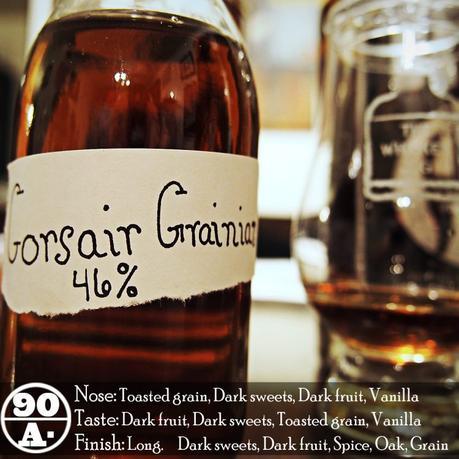 Corsair Grainiac was an experiment gone right. The basic story as I hear it is that one day the Corsair lads were looking around the distillery and realized they had a bunch of "alternative grains" hanging about from other experiments and someone got the idea of mashing them all together to make a 9 grain bourbon. The base was of course more than 51% corn and from there they added quantities of rye, malted barley, wheat, oats, quinoa, triticale, spell and buckwheat.
This frankenmash was then fermented, distilled and put in anew charred oak cocoon and set aside for "a time" to let the metamorphosing magic of new make and oak do its thing – what emerged was beautiful and dubbed the Corsair Grainiac.
Being an experiment a small run of the Corsair Grainiac was done and it resulted in a few awards for Corsair. One of these bottles ended up in the hands of a reader who kindly sent me this sample. Though if you think 9 grains is incredible you should check out their Insane In The Grain which is a 12 grain bourbon and I'm dying to try it for comparison.
Corsair Grainiac Info
Region: Tennessee, USA
Distiller: Corsair
Mashbill: Corn, Rye, Malted Barley, Wheat, Oats, Quinoa, Triticale, Spelt and Buckwheat
Cask: New charred oak (15 gallon barrels)
Age: NAS (Corsair typically ages for 5-10 months)
ABV: 46%
Price: $NA – Very limited run: specialty shops, private sale or auction(?)
Corsair Grainiac Review
EYE
Dark caramel
NOSE
Toasted grain, dark sweets, dark fruit, vanilla, citrus marmalade, wood and a light bit of baking spice. There's a complexity here that defies it's youth.
PALATE
Dark fruit, dark sweet, toasted grain, vanilla, citrus zest, oak, waffle cone and more light baking spices that build towards the finish. Like the aroma the palate is rich and complex in a way that I wouldn't peg this as being a young whiskey.
FINISH
Long and darkly sweet with layers of dark fruit, spice, oak, toasted grain and a bit of nuttiness before it fades off completely
BALANCE, BODY & FEEL
Nicely balanced, rich full body and a round oily feel.
OVERALL
Corsair Grainiac is a wonderful bourbon, I can see why it's won the acclaim that it has. It's rich, full, sweet, aromatic and all around a wonderfully tasty whiskey. I wish Corsair continued to make it! The complexity across the senses is in stark contrast to its youth, I wouldn't guess that it was less than a year old if tasting blind, that 9 grain mashbill has some kind of magic in it.
SCORE: 90/100
Big thanks to the "anonymous" fan/reader who sent me this generous sample of the Corsair Grainiac.