I'm kicking off this week's mini-run of rye whiskey reviews with the Corsair Dark Rye which uses a combination of malted rye, malted chocolate rye and malted barley. It's a malt whiskey, it's a rye whiskey it's a malted rye whiskey, it's a unique and interesting whiskey that carries more maturity than its 8 months would suggest. Yes… 8 months.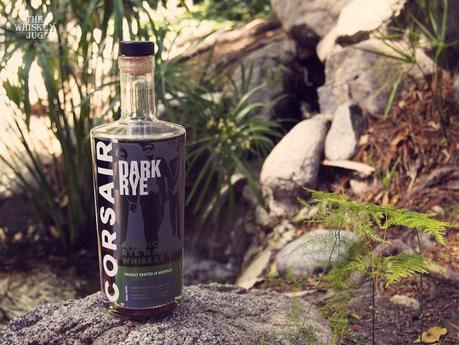 Corsair truly are the masters of the small barrel… but that doesn't keep me from wanting to know what their whiskey would taste like after 4+ years in full -sized barrels. I can only imagine the kind of depth they'd get with the care and attention to detail they put into everything else they do.
Corsair Dark Rye Review: Details and Tasting Notes
"61% Malted rye, 4% malted chocolate rye, and 35% malted barley make up the grain bill of this rich, delicious whiskey. Unlike many other rye whiskeys, we do not use corn to fill up our grain bill, choosing instead malted barley which means Corsair Dark Rye is technically both a rye whiskey and a malt whiskey. This produces exceptionally smooth rye whiskey with chocolate, coffee and spice instead of green notes common in most ryes."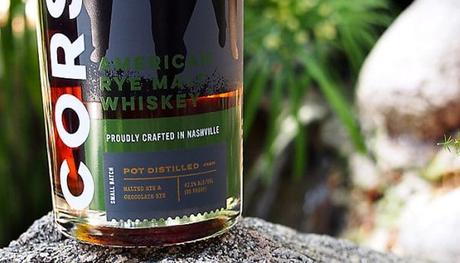 Details (price, mash bill, cask type, ABV, etc.)
Region: Tennessee, USA
Distiller: Corsair
Mash Bill: 61% Malted Rye, 4% Malted Chocolate Rye, 35% Malted Barley
Cask: New Charred Oak (15 gallons)
Age: 8 months
ABV: 42.5%
Non-Chill Filtered | Natural Color
Batch: 6
Bottle: 663/840
Price: $45*
Tasting Notes
EYE
Orangish amber
NOSE
Wood, malty sweet, char, dark cocoa, dried dark fruit, pastries and touches of menthol, copper, spice and nuts.
PALATE
Oaky (slightly woody), copper, malt, char, dark cocoa covered cherries, baking spice, hazelnuts and bits of menthol, dried dark fruits, cereal grains and nuts.
FINISH
Med-long -> Cereal grain and malty sweetness merging with dark cocoa and fading to spice, oak and char.
BALANCE, BODY & FEEL
Great balance, med-full body and a soft warm feel.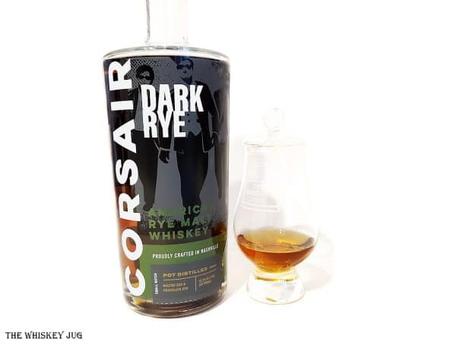 Corsair Dark Rye Review: Overall and Score
Aroma is warm and heavy with a depth beyond its months – pulling through rustic and darkly sweet profiles; Palate walks down the same paths but with more pronounced woody "craft" notes and dark chocolate covered cherries and pops of menthol moving about; Finish is soft and starts sweet before fading to more rustic and an almost tannic profile.
I'm constantly amazed at their ability to get so much maturity and depth, in such a short amount of time, while avoiding that young-raw-woody profile that plagues so many in the craft whiskey world. Corsair Dark Rye is among the best rye whiskeys in the craft category and definitely the best who leverage small barrels. They have those down to a delicious science!
SCORE: 3.5/5
*Disclosure: The bottle for this rye whiskey review was graciously sent to me by the company without obligation. The views, opinions, and tasting notes are 100% my own.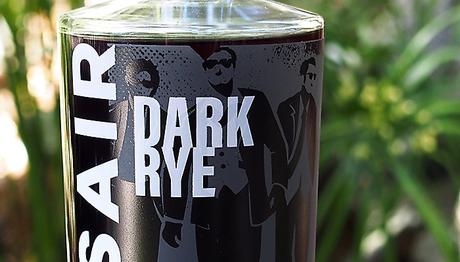 Corsair Dark Rye Review
$45
Overall
3.5
Nose

(3.5)

Palate

(3.5)

Finish

(3.5)

BBF

(3.5)
Sending
User Review
0

(

0

votes)
Comments Rating
0

(

0

reviews)

Corsair Dark Rye Review Summary
So much depth and maturity at such a young age, it's just insane how they do it. This is a warm, sweet, rustic and bold rye that works well neat or in cocktails and shows how dedicated they are to their craft of distilling.
'''