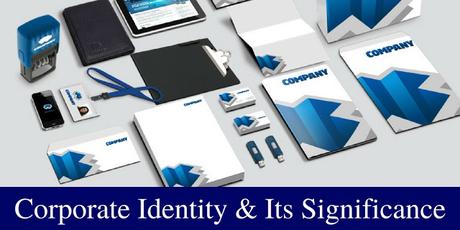 A corporate identity is a physical manifestation of a brand - it conveys the personality, quality and value of an organisation. It also tends to shape the feelings of customers. An identity is basically a means of expressing a company's character, culture, and quality of its services & products. 

Significance of corporate identity
Used for promotional purposes
A corporate identity could include a logo and other  essentials, such as the organization's website, letterhead and business cards among many. All these can be used fir promotional purposes of a brand. For example, a business owner can distribute promotional items such as pens, mugs,
custom printed polo shirts
and bags by embossing the unique logo of his company.
Creates a clear visual identity
A clear visual identity is established for an organization and its services, products, divisions and brand when a strong corporate identity is made. It also helps in standardizing the visual presentation of an organization across various media consistently. 
A recognition for the organisation
The significance of a strong corporate identity is that customers are more likely to remember the product and services provided by a organization. A proper and strategically designed corporate identity helps to embed the firm's image in the minds of potential customers. Even if a customer is unaware of a particular product by a business, he or she is likely to trust the products if he/she feels convinced by the identity. 

Shows an image of quality
A strong corporate identity for an organization,  helps to portray an image of quality in front of the target audience. This can attract loyalty from existing customers and attract new clients at the same time.  
Improves customer's awareness
A consistent corporate identity is vital as it reinforces the image of a business to its existing customers every time they see it. Also, it increases the organisation's competitive edge because the identity dictates how customers perceive and interpret the brand. 
A functional corporate identity conveys a sense of what the organisation is all about - its motives, ideals and objectives. Corporate identity is also an important factor in the marketplace as it affects the purchase behavior of the customers. It helps in getting a foothold in the  market and ensures that an organisation to be remembered, recognised and respected.