Share
Pin
Tweet
Email
Yum
Stumble
Shares

0
This Gluten Free + Vegan Cornbread is fluffy and light with an amazing texture from the cornmeal! It's perfect served with soup or chili, served as a side or snack, or just topped with a little bit of butter or spread. This post is sponsored by Bob's Red Mill.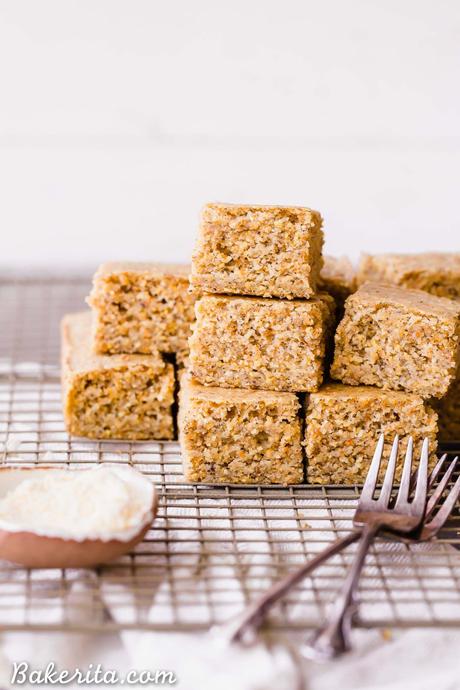 I've been wanting to make a gluten-free and vegan cornbread forever it seems like. The recipes haven't ever turned out quite right – always too dense, or too cakey, or not a good enough texture or flavor. Which is why none of them have ever made it onto this site.
UNTIL NOW. Because you guys, I finally nailed it. Right in time for the Superbowl too…so you can have a delicious side to your steaming bowl of chili. Which one are you making – my classic best chili? My paleo chili? Or my white bean chili?! I'll be making the white bean chili, and it is gonna be perfection when paired with this fluffy, delicious cornbread.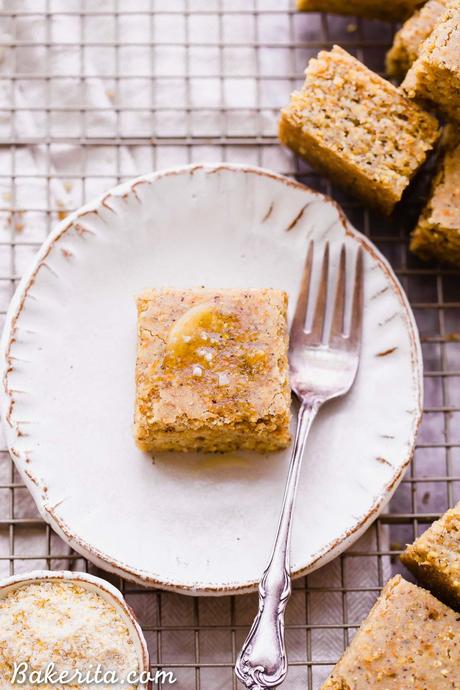 It's pretty dang easy to make too. Just whisk together the dry ingredients, whisk together the wet ingredients, stir it all together, and your batter is done. Just pour it into the pan, or into a muffin tin if you'd prefer, bake, and voila – cornbread.
You really don't even have to wait for it to cool before digging in, because cornbread is always better when it's steamy and warm. Swoooon. Just make sure you've got the butter (or ghee, or vegan butter 😊) on deck and ready to spread!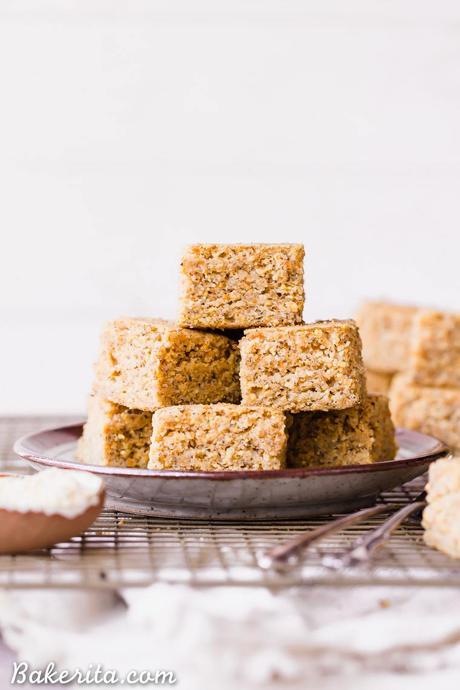 The BEST Gluten Free + Vegan Cornbread!
We'll have a quick chat about how to make the cornbread, what goes into it and why and whatnot, and then onto the recipe! Since most great cornbread starts with buttermilk, we make our OWN dairy-free buttermilk here. A cup of dairy-free milk + a tablespoon of vinegar are stirred together and left to curdle a bit. It's also great to make your flax eggs right at the beginning, so they've got time to gel.
THEN, mix up all those dry ingredients. I used blanched almond flour and tapioca flour, both from Bob's Red Mill – the blanched almond flour helps give light flavor and texture while the tapioca flour makes it super fluffy. Of course, can't have cornbread without cornmeal.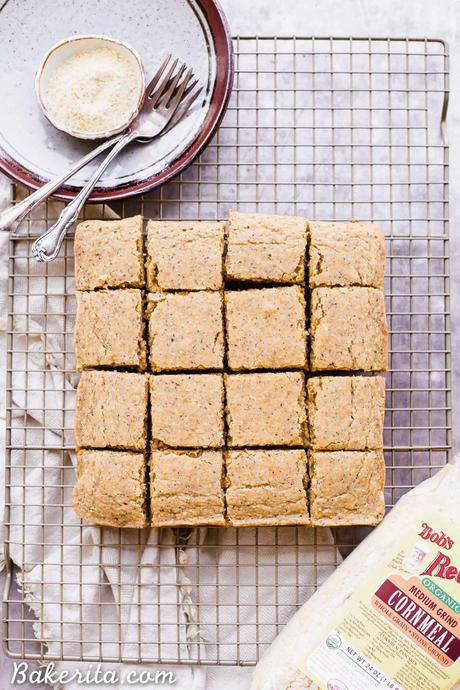 I use Bob's Organic Medium Grind Cornmeal here too, which is the true star of the show. It adds such a nice bite with some grit in the texture and a sweet corn flavor. There's also baking soda, baking powder, salt, and coconut sugar.
For the wet ingredients, we've just got a touch of maple syrup to add a little extra sweetness, melted coconut oil, and the buttermilk we made earlier, along with the flax eggs. BTW – those little brown flecks you might see in the photos of the cornbread? Those are just from the flax meal.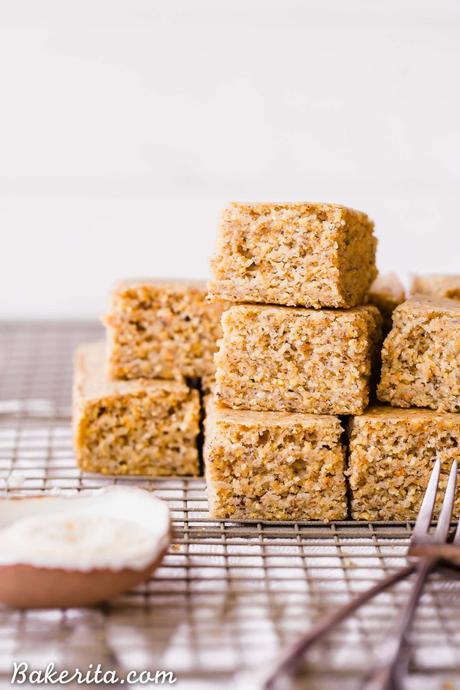 Everything is whisked together until a thick, smooth batter comes together, and it's baked until golden. I seriously couldn't keep my hands off of this gluten-free and vegan cornbread as soon as it came out of the oven…it just smelled so scrumptious. I spread on a little bit of ghee while the cornbread was still warm and it was glorious. 🙌
If you're a cornbread kinda person, you've got to try this recipe! I'd surely say it compares to any cornbread I've ever had, and it's going to be perfect served with chili this coming Sunday…and probably anytime I'm having soup or chili in the future. This one's a keeper! Enjoy :)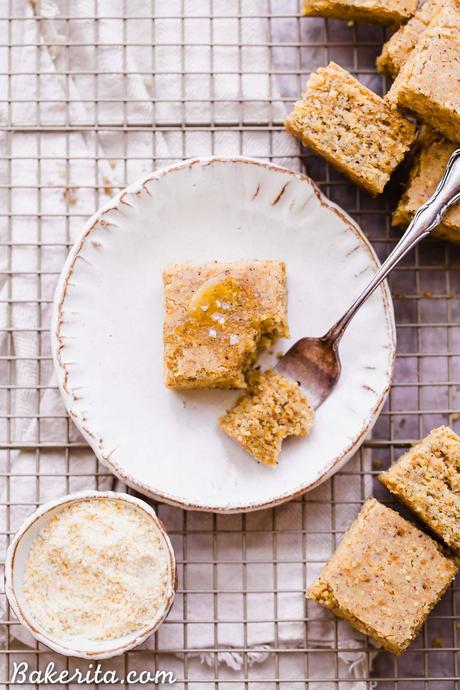 Facebook | Instagram | Twitter | Pinterest
Remember to #bakerita if you try the recipe!
Print
Gluten Free + Vegan Cornbread
This Gluten Free + Vegan Cornbread is fluffy and light with an amazing texture from the cornmeal! It's perfect served with soup or chili, served as a side or snack, or just topped with a little bit of butter or spread.
Course
Side Dish
Cuisine
American
Prep Time
10
minutes
Cook Time
22
minutes
Total Time
32
minutes
Servings
16
pieces
Author
Rachel
Ingredients
1

tablespoon

white vinegar

can also use lemon juice

1

cup

non-dairy milk of choice

I used unsweetened almond

1½

cups

(144g) blanched almond flour

½

cup

(55g) tapioca flour

1

cup

(172g) Bob's Red Mill Organic Medium Grind Cornmeal

2

teaspoons

baking powder

1

teaspoon

baking soda

1¼

teaspoons

sea salt

¼

cup

coconut sugar

⅓

cup

coconut oil, melted and cooled slightly

you could sub with avocado oil too

2

flax eggs

2 tablespoons flax meal + 5 tablespoons water, whisk together and let set for 5 minutes
Instructions
Preheat oven to 400°F. Line an 8x8" square baking pan with parchment paper and grease with coconut oil. Set aside.
Combine the non-dairy milk and white vinegar in a bowl to let the milk curdle a bit into buttermilk. Also make the flax eggs at this point, to give them time to gel.
Meanwhile, whisk the almond flour, tapioca flour, cornmeal, baking powder, baking soda, and salt together in a large bowl, making sure to get all the clumps out.

Add the coconut sugar, melted coconut oil, and flax eggs to the milk and vinegar mixture and whisk together until smooth. Whisk the wet mixture into the dry ingredients until smooth and combined.

Pour the batter into the prepared pan and smooth the top. Bake until golden brown and a toothpick inserted into the center comes out with just a few crumbs attached, about 22-24 minutes.
Let cool in the pan for 15 minutes, then remove from the pan and place on a wire rack to let it finish cooling completely. You can also serve warm, if desired. In fact, I recommend trying a piece warm. Enjoy!

Related Posts
Oatmeal Chocolate Chip Cookie Dough Bites (Gluten ...
Raspberry Matcha Bars (Gluten Free, Paleo + Vegan)
Chocolate Peanut Butter Caramel Tarts with Shortbr...
No Bake Chocolate Peanut Butter Crispy Bars (Glute...
Flourless Almond Butter Chocolate Chip Cookies (Gl...
Raw Chocolate Truffles (Gluten Free, Paleo + Vegan...
Share
Pin
Tweet
Email
Yum
Stumble
Shares

0