Every time I  churn out the glorious looking green chutney, I am reminded of the days when cafes weren't even a thing. Don't get me wrong, the day Barista opened near our college, it was one fancy place to be. However, a few of my friends and I only gathered to sip a cup of coffee on special occasions chuckling and marveling at the fact that we are so broke yet so fiercely ecstatic about the reality that we didn't judged each other pockets. A year after that, Cafe Coffee Day was another hip place to find all the youngsters with notes and other lavish things that I only dreamt to own. My pocket money was very limited during the college days and a few pennies, if any, that I was able to save in the whole month meant I could eat at places like Mc Donalds or leisure my time at any of the cafe with just enough money for either coffee or a frappe. On other restrained days, a chaat or a sandwich and a cup of tea from unattractive yet airy stall would have an equal (no, much more) charm while a group of us discussed on lectures, collected photocopies from an Economics class and made simple merry. What was even more profusely worthwhile those days was the hardship to dig through the pockets of our bags to gather coins to pay for our relished treat. Do you remember feeling that way?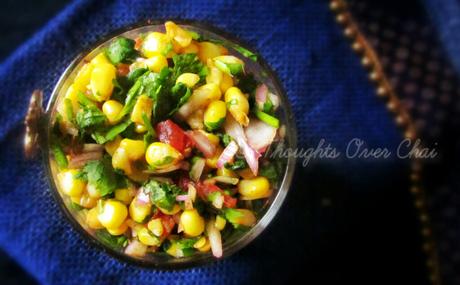 One of the many things I miss about living in India is queuing up outside a dainty stall and calling for chaat while a road side vendor diligently worked his hands in arranging crisp flat puris on a paper plate or a newspaper and assembled with varied toppings like tomatoes, onions, chutneys and watched him liberally sprinkle nylon sev with a free hand to garnish. Many a times, he'd be dipping a round puri in a spiced water to be eaten by a person standing opposite to him with a longing desire with a tiny plate stretched towards the vendor to savor each bite as he lovingly accept. If he isn't doing any of the two, a shoddily dressed man would be vigorously mixing puffed rice with other accompaniments into a bhel puri in a newspaper shaped into a cone.
There's not only one but many nooks you can spot as you walk through the pavements which sell chaat- where the main popularity of Indian street food comes from. Chaat has many forms, mainly being vegetarian, and is very easy to throw together with little prep. When it comes to preparation, I love to store a jar of chutneys in my refrigerator at all times for an instant when the craving strikes; all homemade – tamarind, mint coriander and dates are a staple in my home. Having said that, and also as unhygienic as it may seem to be gulping down every singe morsel off our plates standing in a crummy corner in the alleys of Bombay (or any Indian street for the matter) is something very satisfying.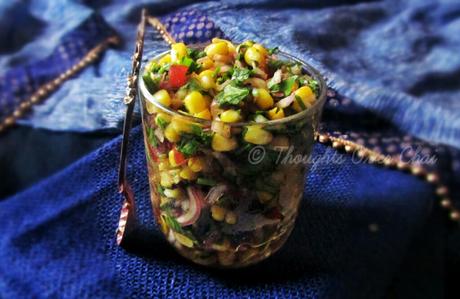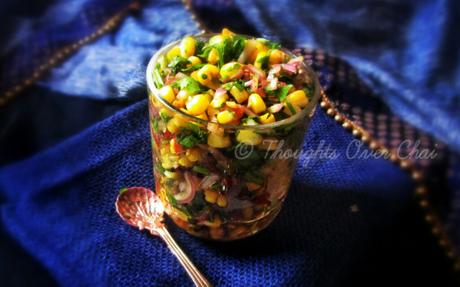 The fact that the street side food has become so much a part of me, every single bite of it now take me back home revising my memories to something new. No extravagant restaurant or a swanky food can ever come close. Over the years, food scene may be changing in a flash and I may now afford to dine at extravagant restaurants, but the whole experience of  assembling a chaat and savoring it cannot be matched while we stand at the counter calmly waiting for our plates or find ourselves seated on plastic chairs and tables in now somewhat modern eateries. A few things from childhood never really change, does it?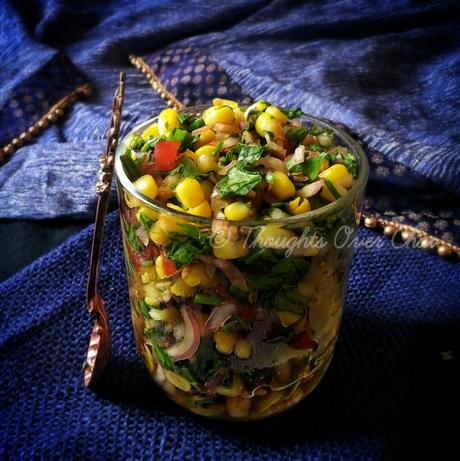 Corn chaat isn't much you will find on the streets. It is actually a version I created inspired from a very popular chana chaat sold in India – that is a mix of red onions, tomatoess, chilli, abundant coriander leaves and lime juice. Very easy to put together but serve immediately as the juices from the ingredients wouldn't leave a much remarkable impression if you are serving as a salad with other dishes.
Preferably, use fresh corn if you can find!
Corn Chaat
Servings: 2
Difficulty: Easy
Ingredients :
Fresh corn kernels – 2 cups
Red onions – 1, chopped
Tomatoes – 1, chopped
Coriander – 1/2 cup packed, chopped
Green chillies – 2, de-seeded and chopped (add more if you like)
Lime juice – 3-4 tbsp
Salt and pepper to taste
Method :
Slice down the corn kernels from the cob with a sharp knife. In a deep pot, heat water and let it come to a boil. Season with salt and cook the kernels for approximately 5-8 mins on medium heat or till done. Strain all the water. While the corn is on heat, cut onions, tomatoes, chillies and coriander into small pieces. In a serving bowl toss together all the ingredients, season to taste and serve.