One constant problem I've encountered when trying to create my little photographic dioramas of my diecast models is finding suitable backgrounds in color. With this diorama I'm moving into a new era. I've taught myself to colourise an old black and white photo, and use this as the background.
(I really should credit the wonderful photo library where I found this black and white image, and many others that I plan to use. It's Shorpy's  a place where you can click and watch amazingly high quality, beautiful old photos of realistic, ordinary life from yesteryear, for hours on end. It's well worth many visits.)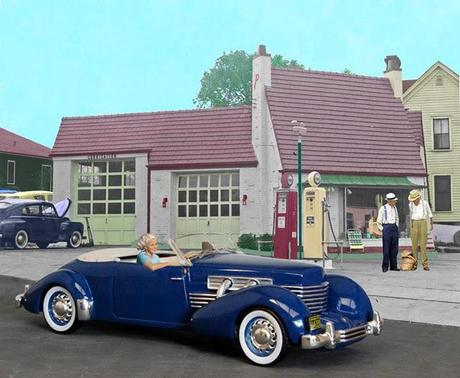 Here, I've parked a Cord 810 Phaeton from 1936 in front of a filling station from that era.
The original photo lacked people, and so I borrowed two old chaps chatting in the doorway
of a produce store, and slotted them in. And then in the car I wanted a pretty girl from
the 1930s, and there was none prettier than Jean Harlow. For the record, the Cord is
a 1:43 model by IXO, and it's such a well-known classic that I don't really need to say
much about it, other than I have never seen one in the 'flesh'. I'd like to!
Instead, what I thought I'd finish with is a little tribute to the girl in the car, Jean Harlow. I only knew her name, and that she was a big star back then. What I didn't know is that she died at the tender age of 26, of kidney failure, when she was one of the biggest stars in the world. This was back in the 1930s, a time before antibiotics were freely available, and she simply became ill during filming (it seems the girl played and partied hard, for sure), she was misdiagnosed, the treatment was wrong, and she died within a few days. And so here's to you, Jean Harlow.