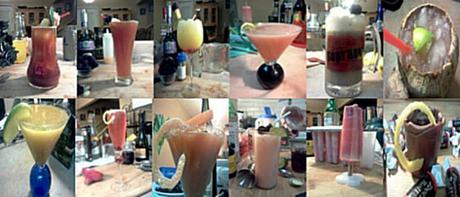 Hey SIP's,
Cheers! From BluntDinerz. Hope you're all raking in the scratch and not taking too much grief from your guests. I'm just checking in to let you know about some things on BluntDinerz.com that might peak your interest.
The thing I'm the most excited about is the new Mystery Waiter series. It's wild, man. I found this kid who is just perfect for the 'Blunt' style you've come to know if you're a reader. He's a no holds barred dude under anonymity and he's running with it. He just posted his introductory article. Read it NOW! Hah! JK. It is worth your time, though. Especially for SIP's. He's gonna say what we all want to.
Another completely cool and totally rockin' event happening on BluntDinerz.com is The Customized Cocktail Contest. Also fully wild and a mind-blower of epic proportions. We're giving away a $100 gift card to a lucky reader!
For Realz!
Yeah, all it takes is knowing what you like to drink and where you like to shop. How easy is that? Here's the skinny:
Got to this link. Yes, this one.
In the comments section of that post list some ingredients that you think would make a good cocktail and tell us the gift card you want.
Keep your eye on BluntDinerz.com for the three finalist cocktails made from reader-chosen ingredients. (One could be you!) Finalist will be chosen by BluntDinerz staff. The recipes will be developed by lvfrankg.
Vote as much as once a day for your favorite cocktail. Voting is for 14 days. You can vote for yourself.
The cocktail with the most votes earns the reader who submitted it's ingredients a $100 gift card of their choice.
I hope to see you there. Bartenders and all service industry proffesionals are encouraged to participate. BTW, have you said thanks lately to The Waiter's Today crew? Do these guys rock, or what? Cheers! SIP's. lvfrankg
Contest rules and eligibility requirements apply.