If you have been following my blog you know that I don't cook that often.

 

It is on rare occasion I have the desire to cook and when I do you will notice it is a gift to my husband.

 

I am lucky, that because he works afternoons, cooking meals usually are not a problem. When he isn't home I tend to be a grazer and don't prepare meals for one. On the two nights he is home he cooks, we cook together or we go out. So it leaves the seldom occasion when I actually cook… hence the reason I consider it a gift.
The odd thing about cooking for me is that I often screw it up or meals don't turn out quite so good or taste like they should.

 

On the other hand I can bake.

 

I don't know why I seem to be able to bake and not cook.

 

I chalk it up to the fact I could eat cookies, cakes, cupcakes and pie for every meal and be completely satisfied.

 

I would also lose my ability to sit comfortably in an airplane seat.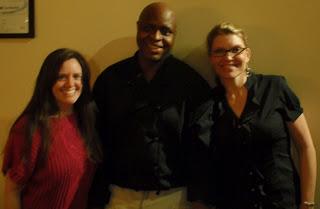 This year when I was making my annual goals I really tried to challenge myself to step out of my comfort zone and do things I don't like to do or things I am not good at.

 

One of the goals I made was to take a cooking class.

 

I was excited when Groupon had a deal for a cooking class in Chicago at Ren.

 

I purchased the deal in hopes Mike would go with me.

 

Fat chance!

 

I finally roped one of my friends to take off work early and drive into Chicago with me. (My gift was to her. I paid for her cooking class and gave her a Word of the Day calendar for her desk.

 

A goal of hers was to learn a new word every day.) I must admit, I was a bit nervous because reviews on YELP were not very glowing.

 

If I would have been signed up by myself I would have bailed.
Sometimes it is doing what we don't want to do or the unknown that we miss great opportunities.
When we arrived we were greeted by Chef MarkWright.

 

He looked more like football player than a chef but who am I to judge.

 

Let's just say over the next three hours he made the time fly and we had a blast.

 

After several hours of cooking with other couples we were ready for a delicious meal.

 

While we were eating my friend and I chatted with Chef Wright about his career and his love for cooking. He made everything look so simple and I know it comes from years of practice. The night ended with a TO-DIE-FOR dessert.

 
On the way home my friend and I laughed about the time we had and discussed all we had learned.

 

I can't wait to try out several of the recipes from cooking class and check out and cook other recipes Chef Wright post on his website at

www.sarcooking.com

.
If you are in Chicago or Northwest Indiana I highly recommend cooking classes from Ren and make sure Chef Wright is cooking! Bon Appétit!