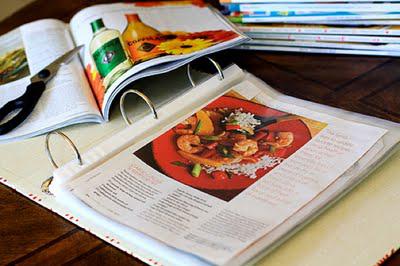 W
ell, you do still have to cook, but it really helps to have "light" recipes at your fingertips.  One of the best things I ever did in our household was create a recipe book.  Fortunately, I had stacks of un-recycled
Cooking Light
magazines and a hungry family to inspire my creation. A friend once asked me, "are you a page marker or a tearer?" I quickly replied, "a page marker, of course." Who would tear pages out of a magazine--doesn't that ruin it? After thinking about it, I realized that I needed to be a "tearer", and right away! How liberating it is to read my Cooking Light magazine from start to finish as soon as it lands on my countertop and tear out recipes as they catch my eye. I know what I like when it comes to food and it makes gathering recipes quick and easy.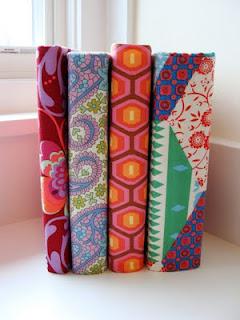 O
nce I was liberated as a "tearer", I gathered a three ring notebook, some clear plastic sleeves and began to create my coveted recipe book. I threw a few dollars to my 13 year old and she actually placed tabbed dividers in the book to organize the recipes by type. Of course, we had to dedicate an entire binder to sweets. So, in the amount of time it takes to boil some pasta, I had my recipe "bible." 
A few times a week I browse through my book, choose a few recipes, put post-it notes on the front of each with the ingredients I need and head to Trader Joes. Usually, my super-friendly, over-educated friends at TJs approach me to find out what I'm making this week. So make cooking light one step easier; make a recipe binder for yourself and maybe even create one for a friend. They make unique gifts and you could even splurge on a fancy binder cover from Watermelon Wishes on Etsy.
Here are some of my all-time favorite Cooking Light recipes to get you started:
Strawberry, Pistachio and Goat Cheese Pizza
Vegetarian Bolognese with Whole-Wheat Penne
Cavatappi with Bacon and Summer Vegetables
Falafel with Avocado Spread
Baked Potato Soup
BLT Bread Salad
Roasted Beet Pizza
Seared Scallops over Bacon and Spinach Salad
Cantaloupe, Prosciutto and Cabrales Salad