Cooking for kids has been a major trend in the Food and Beverage as well as the Health Industry.
No, I dont mean putting up a "Kids Meal" in restaurants and fast food chains...
But what I mean designing special dedicated meals, books, and cooking courses dedicated for our kids.
This is all due to the obesity rates and facts among children.
Childhood Obesity Facts
Childhood obesity has more than doubled in children and tripled in adolescents in the past 30 years.
The percentage of children aged 6–11 years in the United States who were obese increased from 7% in 1980 to nearly 18% in 2010. Similarly, the percentage of adolescents aged 12–19 years who were obese increased from 5% to 18% over the same period.
In 2010, more than one third of children and adolescents were overweight or obese.
Overweight is defined as having excess body weight for a particular height from fat, muscle, bone, water, or a combination of these factors. Obesity is defined as having excess body fat.
Overweight and obesity are the result of "caloric imbalance"—too few calories expended for the amount of calories consumed—and are affected by various genetic, behavioral, and environmental factors.
      Source: Center for Disease Control & Prevention
Cooking for Kids: New Book
The trend for cooking for children has been recently adopted by the World's most famous chef Alain Ducasse who has published his first one of a kind cooking book, dedicated only for kids!  It is a must buy if you are - or planning to be- a parent!
I am sure kids will love it! Ducasse is known for his most delicious Haute Cuisine meals and the most famous restaurants around the world!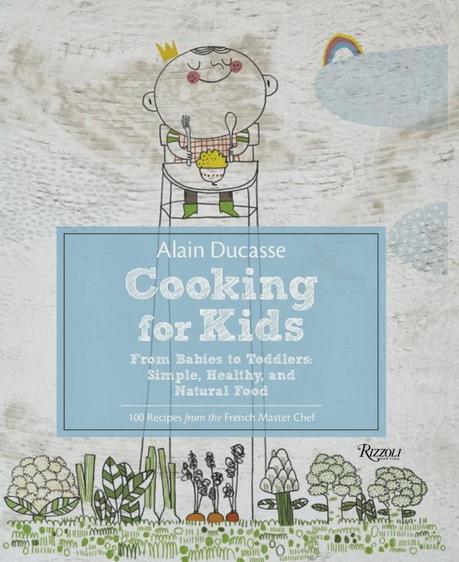 Alain Ducasse Book on Cooking for Kids 
Cooking for Kids: Online Free Course
A month ago I also enrolled in a
Cooking for Kids
,  a free online course from Stanford/Coursera . It teaches child nutrition and some basics of cooking.
This is a sum up of the course below from the professor who taught it. Recommended to take. It is very easy, quick and informative to anyone.
Dear Student,
I am a medical doctor and a mother of three young children. In the US, where we live, and in many other parts of the world as well, our children are facing an epidemic of childhood obesity. They are in trouble because we've outsourced the job of feeding them and most processed food manufacturers don't have their best interests at heart. The sheer availability of packaged food has made it increasingly easy for us to avoid the kitchen altogether. We've become convinced that we don't have the time, money or skills to feed our own families. The time has come for parents all over the world to come together as a community and begin cooking for our families again. Most of us feel over-worked and short-of-time. You know what I'm talking about. I don't want to add to your "to-do list". Instead I want to show you how simple and enjoyable basic home-cooking can be. Then I'll ask you to consider making even the smallest changes to your eating routines – maybe you'll cook just once a week and freeze that dish in a few smaller containers to be eaten later in the week. Or maybe, like me, you'll find so much joy in the act of making food for your families (and yourselves) that you'll never go back to anonymous food again. Watch what my eight year-old said when I asked him why he thought this was important:
http://www.youtube.com/watch?v=4OY6bsqhAiI
www.facebook.com/justcookforkids
@justcookforkids