We, the millennials, the tech savvys and social media addicts, are a nation of aspiring cooks! At least that's what most of us write on our Twitter bios, share on Pinterest boards, and post as Instagram photos, yet-honestly-we barely have time for cooking daily... Nevertheless, most of us rely on social media to choose food, whether through restaurants' reviews, recipe's blogs, or friends' comments about products. But our social media profiles can go beyond just sharing individual food photos, recipes and reviews. Social media has been rising as a crucial aspect in the communication between consumers and the food brands on one hand, and between consumers and health care practitioners on the other... 
How do food companies and food experts deal with social media?
Well, that is what I explored and wrote about in Cloud961 issue number 5.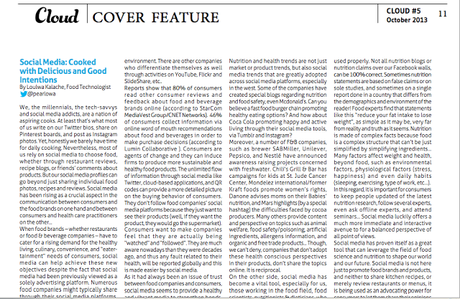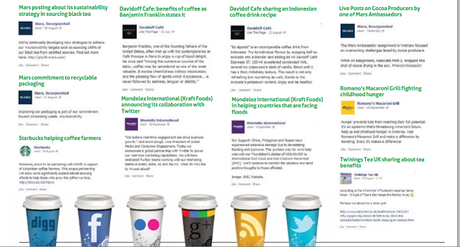 Download full issue here
When Food brands -whether restaurants or food & beverage companies- have to cater for a rising demand for the healthy living, culinary, convenience, and "eater-tainment" needs of consumers, social media can help achieve these new objectives. Despite the fact that social media had been previously viewed as an advertising platform, solely. Numerous food companies might typically share through their social media platforms, merely recipes and products' information, but the trend is that they are becoming more transparent in regards of their processing and ingredients, and sharing more about their social activities, sustainability initiatives, partnerships, financial results and the workplace environment. There are other companies who differentiate themselves as well through activities on YouTube, Flickr and SlideShare...etc
Reports show that 80% of consumers read other consumers' reviews and feedback about food and beverage brands online (Source: StarCom MediaVest Group/CNET Networks). 46% of consumers collect information via online word of mouth recommendations about food and beverages in order to make purchase decisions( Source: Lumin Collaborative ). Consumers are agents of change and they can induce firms to produce more sustainable and healthy food products . The unlimited flows of information through social media like Twitter, cloud-based applications, and QR-codes can provide a  more detailed picture on the consumers' buying behavior. Consumers don't follow food companies'  social media platforms because they just want to see their products. (Well, If they want the product,  they would go the supermarket). Consumers want to make companies feel that they are actually being  "watched" and "followed". Consumers are much aware nowadays than they were decades ago, and thus any fault related to their health, will be reported globally and this is made easier by social media.
Mondelez International (Kraft Foods) in helping countries that are facing floods
As It had always been an issue of trust between food companies and consumers, social media seems to provide a healthy and vibrant media to strengthen bonds, increase mutual trust and promote visions rather than products... As most social media strategist claim "Content is King" ! Food companies have to provide highly relevant, real-time conversations with customers who have access to unlimited and sufficient information. Nutrition and health trends are not just market or product trends, but also social media trends, that are greatly adopted across social media platforms especially in the west. Some of the companies have created special blogs regarding nutrition and food safety, even Mcdonald's. 
Mars commitment to recyclable packaging
Can you believe a burger chain promoting healthy eating options? And how about Coca Cola promoting happy and active living through their social media tools, via Tumblr and Instagram!
Moreover, a number of F&B companies, such as brewer SABMiller, Unilever, Pepsico, and 
Nestlé have announced awareness raising projects concerned with freshwater. Chili's Grill & Bar have 
campaigns for kids at St. Jude, Mondelez international/former Kraft foods promote women's rights, 
Danone advises moms on their Babies' nutrition..etc Mars highlights by a special Hashtag the difficulties faced by cocoa producers. Many others provide content and perspective on topics such as animal welfare, food Safety/poisoning, artificial ingredients, allergens information, and organic and free trade products... Though, we can't deny, companies that don't adopt these health conscious perspectives in their products, don't share the topics online. It is reciprocal. 
On the other side, social media has become a vital tool, specially for us, those working in the food field, food scientists, nutritionists & dieticians, who are faced with the difficult task of ensuring 
that the public receives accurate, up-to-date information to counteract the often misleading or over-
simplified reports found in mainstream media... Surely, social media, nutrition and consumer awareness do have a backlash effect if not used properly. Not all nutrition blogs or nutrition claims over our 
Facebook walls, can be 100% right or correct. Sometimes Nutrition statements are based on false claims or on sole studies, and sometimes on a single report done in a country that differs from the demographics and environment of the reader!!! Food experts, read statements like this "reduce your 
fat intake to lose weight", as simple as this statement is, as far from reality and truth it seems. Nutrition 
is made of complex facts because food is a complex structure that can't be just simplified by simplifying ingredients... Many factors affect weight and health, beyond food, such as environmental factors, physiological factors ( stress, happiness) and even daily habits ( sleeping, exercising, type of work...etc).
In this regard, It is important for consumers to keep people updated of the latest nutrition research, follow several experts, even ask offline experts, and attend seminars... Social media luckily offers a much more immediate and interactive avenue to offer that balanced perspective of all point of views.
Social media has proven itself as great tool that can leverage the field of food science and  nutrition to shape our world and our future. Social media is not here just to promote food brands and products, and neither to share kitchen recipes, or merely review restaurants or menus, it is being used as an advocating power for consumers to let them share their opinions and stories, reach other communities, and eventually pressure policy makers! Maybe, I am an optimist, but social media is surely being cooked with delicious and good intentions!
Mars posting about its sustainability strategy in sourcing black tea
Live Posts on Cocoa Producers by one of Mars Ambassadors
Starbucks helping coffee farmers
Caption Mondelez International (Kraft Foods) announcing its collaboration with Twitter
Davidoff Cafe: benefits of coffee as Benjamin Franklin states it