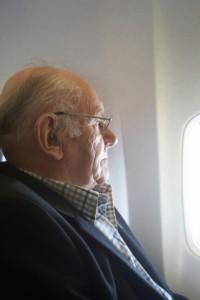 If you're new to urinary incontinence, you might think it's impossible to go out and have fun, let alone fly out of the country on a long 20-hour non-stop flight, without constantly having to run to the bathroom. Fortunately, with a little bit of planning and a lot of patience, you can take long trips while staying dry.
Wear an extra absorbent diaper with wicking capabilities and odor control. Popular options include Abena Abri-Form Briefs and Tranquility ATN.
Use a booster pad to increase the absorbency of the brief.
Bring extras of everything in your carry-on. "Everything" includes briefs, pads, wet wipes, underwear, pants, plastic bags, and diaper rash cream – anything you'll need to ensure that you stay dry throughout your long flight.
When booking your flight, get an aisle seat so that you don't have to worry about disturbing your neighbors to use the lavatory. If you are unable to choose a good seat in time, ask your neighbor if you could switch seats.
Be sure to stay hydrated and drink water. Many people tend to avoid drinking beverages in-flight because they don't want to go through the hassle of getting up and using the lavatory. However, the air cabin gets extra dry as you ascent into the stratosphere, making you more dehydrated than usual. This can irritate your bladder and make you want to pee more.
If bladder control is really a problem, look for flights with layovers, rather than a direct flight. Unfortunately this means your flight will be much longer, but the time between your bathroom breaks will be shorter.
Consider using a catheter. This will make it much easier to change in a cramped bathroom and you won't have to change as much compared to wearing a brief. Ask your doctor if this is a safe option for you.
If you are one of those people who can easily sleep on airplanes, you may want to use your cellphone (put on airplane mode!) as reminder to change your brief every few hours. Changing regularly will help prevent leaks and diaper rashes.
Before booking your flight, make an appointment with your primary doctor or a urologist to see what else you can do to manage your incontinence problems on long flights. Incontinence can be very frustrating to control, but it shouldn't get in the way of your well-deserved vacations.