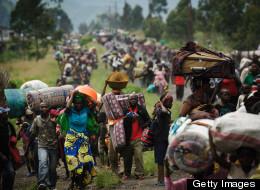 I retweeted today this powerful exercise in self-reflexive journalism
filed from Goma on November 27 by Philip Gourevitch and posted on the
New Yorker Web site.
There are blocks of the piece I disagree with, but overall the report
is a valid condensed vignette of the recent history of the DRC.
I also disagree with the piece's underlying essentialism and
essentialization of the Congolese--though "outrage as a Congolese
condition of being makes for disturbing lasting impression on one's
mind.
But that's precisely why this kind of "thick description" is called
self-reflexive reporting.
A TEASER:
"It is impossible to be Congolese," [Salvador Muhindo] said at one point,
"without being continuously outraged."
Read the colorful narrative here:
m.newyorker.com/online/blogs/newsdesk/2012/11/outraged-in-congo.html
***
PHOTO CREDITS: Phil Moore/AFP/Getty