Recipe Number One Hundred & Eighty:  Page 378.
I haven't made a cheesecake for a while, so I was very much looking forward to trying this recipe. The title was a little unusual. However, judging by the list of ingredients, it would be a delicious baked cheesecake topped with summer fruits and cream. I'd be sure to gain a stone after eating a slice, but it sounded as though it might be worth it!
As we were staying with my parents, it seemed a perfect opportunity to make a large cheesecake such as this. Mary mentions that it should serve twelve. I find Mary's portion sizes to be tiny and hardly enough for a sparrow. I suspected that it would more likely serve six or eight!
Isaac spent the morning playing with his doting granny and this gave me a chance to get on and make the cheesecake. The first job was to grease and line the base of a ten inch tin. I had brought my suitably sized flan tin as I didn't have a round cake tin large enough. I hoped that it would do the job just as well!
After lining the base of the tin with greaseproof paper, I moved on to making the buttery biscuit base. I melted a modest amount of butter in a saucepan and then weighed out the digestive biscuits. As with all of Mary's cheesecake recipes the base was going to be thin. I only required seven biscuits; it seemed such a tiny amount! However, this meant that it took mere moments to beat them into submission with a rolling pin! By this time the lump of butter had melted, so I could add a little Demerara sugar and the biscuit crumbs before mixing it all together. The mixture looked delicious and it was hard to resist eating it straight from the saucepan! I tipped the biscuity mixture into the lined flan tin and pressed it into all the corners. Thankfully there was just enough to cover the base neatly.
While the base was setting I moved on to making the cheesecake. It soon became clear that this wasn't going to be a five minute job! I tipped some softened butter into a large mixing bowl and then measured in the caster sugar. Wow – what a terrifyingly large amount! I'd better book an appointment with the dentist straight away! After the mountain of sugar, in went the ricotta cheese. Rather annoyingly I used two entire tubs and just a teeny tiny amount from a third. I weighed a relatively small quantity of plain flour into the mixing bowl and then went on the hunt for two lemons. Not only would I need the grated zest, but the recipe also required their juice. This was going to be a seriously lemony cheesecake – just how I like it!
We had almost a dozen eggs at home so I decided to bring them with us. It would have been wasteful not to use them. I hoped they had survived the two and a half hour drive and the hour on the ferry. Cautiously I opened the egg box and peered inside. Phew, all was intact! I separated the required four eggs. The yolks were added to the other ingredients while the whites went into a clean bowl. They would soon be put to good use. Now it was time to give the ingredients a good beating. Mary says to beat until smooth. I had a few stubborn pieces of butter which repeatedly avoided the beaters. In the end I decided that I didn't mind one or two lumps!
By now the mixture was over half way up the sides of the large mixing bowl, but I still hadn't finished. In yet another bowl I needed to whip up some cream. As Mum's second bowl was holding the egg whites I wasn't sure what to use. I ended up attempting to whisk it in a measuring jug with a balloon whisk! I struggled on for what felt like ages until I gave in and asked Neil for help. My poor wrist was killing me! He kindly came to my rescue and it was soon at the required lightly whipped stage. This meant that it was ready to be folded into the cream cheese mixture. As I took a step back, I managed to knock the balloon whisk from the overcrowded worktop. It bounced off my jumper and skidded down the length of my trousers. I was covered in cream. Funny how my parents' dog suddenly took an interest in me!!
Of course the egg whites could not be forgotten. I was glad that whisking the egg whites would be my last job. Well, for now at least! I really wasn't sure if I would have room in the bowl for the stiff egg whites; it was already fit to burst! To be honest I was a little heavy handed when folding them in. I wasn't particularly worried about losing some of the volume as there was no way it was all going to fit into the flan tin.
In the end I had enough mixture left to contemplate making another cheesecake! I decided to make one for my sister and her husband. I used a much smaller but deeper tin. I made up half the amount of biscuit base and then tipped the remaining cheesecake on top. The tin had a fixed base so it wouldn't make an attractive exit but I doubted that they would mind, as long as it tasted good!
I placed both cheesecakes into the oven. As they were smaller I deducted some of the cooking time and kept a close eye on them. The larger of the two browned quite quickly on top and set quicker as the tin was fairly shallow. After just over an hour I turned off the oven and left them to cool with the door shut. An hour or so later I extracted the cooled cheesecakes and placed them onto plates. I was amazed when the smaller of the two easily exited from its tin!
To be perfectly honest I was getting a bit fed up with these cheesecakes as I still needed to prepare the fruit and cream topping! I sliced some fat strawberries in half and used almost a whole punnet of raspberries. I placed both into a large mixing bowl and then moved my attention to the punnet of blackberries. Mary does make other suggestions of what other summer fruits can be used. However three different fruits seemed plenty, especially when they are so expensive! I put the blackberries into a saucepan along with a little water. Once they had softened and released their juices I took them from the heat. To thicken the blackberry juice I mixed a small amount of arrowroot with some more water and then added the mix to the heated berries. With a few more minutes on the hob the mixture had thickened up and I had to let it cool before I could move onto the next stage. I used this time to whip up the double cream. This time I used my common sense and let the electric whisk take the strain! The thick cream could then be spooned into a piping bag to await further attention.
Finally the blackberries were cool and I could tip them into the bowl of strawberries and raspberries and carefully mix together. I heaped spoonfuls of fruit on to the top of each cheesecake, paying particular attention to the larger of the two. I left a little space around the edge so that I had room to pipe the cream. Hooray, I was finished! I felt tempted to pop a few party poppers and light a few sparklers to celebrate the occasion!!!
The cheesecake was still a little warm when I cut a slice. I was surprised when the slice came out intact! The biscuit base was gorgeously buttery and the filling was creamy but at the same time as light as air. The fruit that prettily decorated the top was perhaps a little tart, but I thought everything combined beautifully. It certainly went down well with my family. My sister was very excited to have a whole cheesecake to take home! I do love a cheesecake, but I think I prefer the simpler varieties. This really is something to make for a special occasion or for someone you REALLY love!!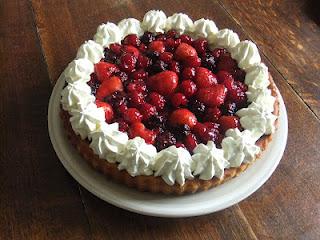 Pretty!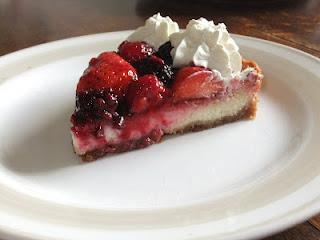 This didn't last too long!