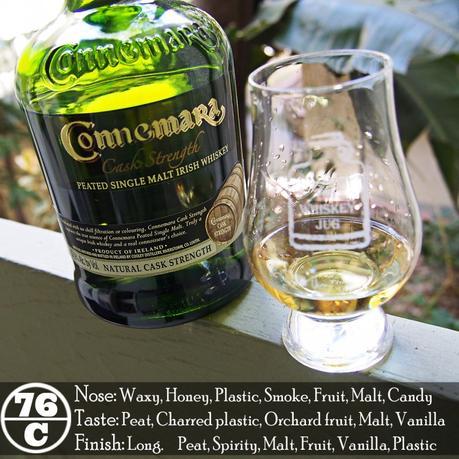 Connemara Cask Strength is the younger, buffer, version of the Connemara 12 year. Peated, Irish, non-chill filtered and bottled at cask strength it has all the makings to be a tremendous whiskey… but it isn't. It tastes and smells like a rough and tumble distant cousin of something from Islay and that's because it is. Connemara is made from 20 PPM peated malted barley from Scotland.
Ireland has peat bogs and Cooley could actually peat the barley themselves, but the question is for how long? Irish peat bogs have dwindled in size incredibly fast over the last 70 years and it's predicted to run out sometime around 2050. It's a tough situation to be in, but I would love to see the distillery release at least one big run using Irish peat. Since we're living in a pretend world at the moment maybe they could even get some used Irish Oak barrels from Midleton and make this a truly Irish Whiskey.
Connemara Cask Strength Info
Region: County Louth, Ireland
Distiller: Cooley
Mashbill: 100% Malted Barley
Cask: ex-Bourbon
Age: NAS
ABV: 57.9%
PPM: 20
Cask Strength | Non-Chill Filtered | Natural Color
Price: $75
Connemara Cask Strength Review
EYE
Pear juice
NOSE
Light and waxy notes of honey, plastic, smoke, fruit, malt, candy, spice and citrus peels. Water opens some etherial notes of vanilla laden young spirit and a vegetal quality. The aroma is better at full CS; don't open it up.
PALATE
Peat and charred plastic come upfront followed by light notes of orchard fruit, malt, vanilla, spice and brûlée. Water kicks up some citric acid, fruit and a sweet spirity character while taming the burned plastic note a bit. So water helps the palate… kinda.
FINISH
Long, peaty and spirity with a speckling of malt, fruit, vanilla, plastic and spice. This is the best part of this whiskey.
BALANCE, BODY & FEEL
Not well balanced, medium-thin body and a hot harsh feel.
OVERALL
This batch of Connemara Cask Strength is not very good. Peat and plastic notes dominate with everything else being served up lightly on a hot harsh plate. Water doesn't help the nose at all and the more you add the more vegetal and youthful it gets which doesn't work well with that peat and plastic quality. I tried slowly adding water over the course of 30 minutes but couldn't find a happy middle ground for this aroma.
On the other hand water does help the palate… a bit. It evens out the burned plastic and kicks in some citric acid and fruit, but it also ushers in a borderline cloying spirity character that grows the more water is added. It's kind of a damned if you do damned if you don't scenario with this batch and in the end I'd rather drink the Connemara 12 years over the Connemara Cask Strength any day.
SCORE: 76/100