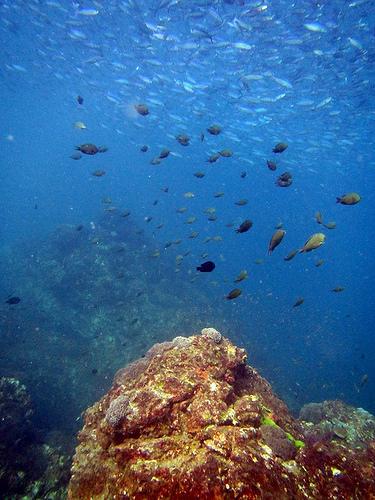 In than forty minutes of water time at Richelieu rock, we saw more intense marine life than we have seen anywhere in Thailand by a wide margin. Local fishermen knew all about this gold mine of fish, and helped Jacques Cousteau discover be the last person to "find" it- he's said to have popularized the spot for diving.
I need to share a little more of the spectacular goodness we saw there. It surpassed our Malaysian spots as well (granted, they not include the amazing NE side of Borneo- just Tioman, NW  Borneo, and the whole W side of the peninsula. So yeah, still most of Malaysia, if not the marine crown jewels).
It starts with nothing more than chunks of limestone, poking up from below the surface. Plummeting down to the seabed at a sharp angle, it's not an expanse of tidally influenced reef like most of the spots we've seen, but instead a hotspot for a broad spectrum of life and the pelagics cruising through.
It's not a large area, but it seems like a magnet for these ocean going fish: we saw really big schools trevally, several species of tuna, giant barracuda, and a couple ridiculously big Spanish mackerel.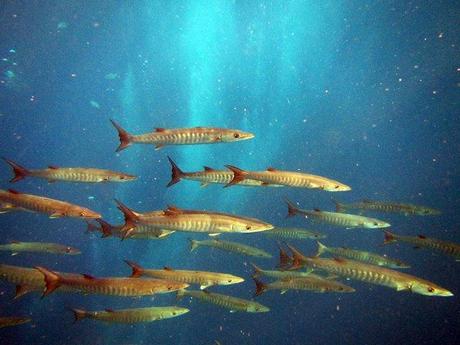 Rainbow runners where there by the thousand: we'd seen them in big schools at the Surins, but only very small juveniles, here there were "pan size" fish schooling.
That picture of the rock at the top? It might not look like much, but get down close and it is so ridiculously full of life. I'm a complete sucker for anemone fish: Jamie got this excellent picture of a camera shy one.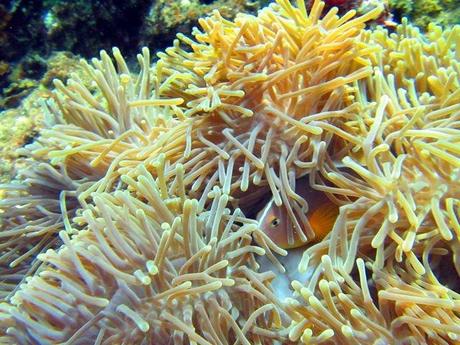 We're a little out of practice, but I felt like my breath had been coming back during the prior days at the Surin islands. It failed me a little here, which I want to say is because I was just slightly out of control from the excitement at all this awesome underwater life. I probably just need more time and practice, though!
In forty minutes, I saw four giant morays. This one posed while being cleaned by a wrasse. He held his mouth open for cleaning and it kills me a little, but I totally flubbed the shot of the fish in his mouth, cleaning those sharp looking teeth. Wow!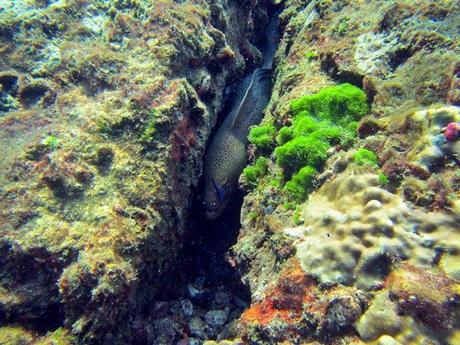 Only one nudibranch, but seeing a nudibranch pretty much makes my day. Seriously, how cool looking are these little guys? Think of them as snails without shells, but in technicolor.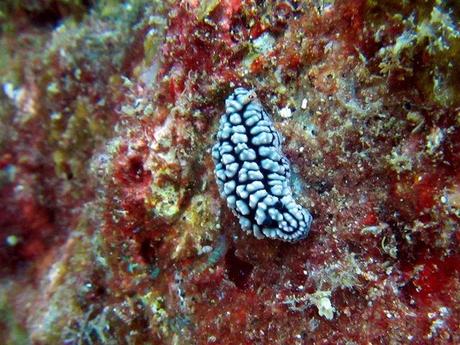 Then, there were the little vignettes, like this pretty murex nestled into the... algae? Seaweed? Whatever. Gorgeous. So tempted to pick it up for a closer look at the underside, but I resisted.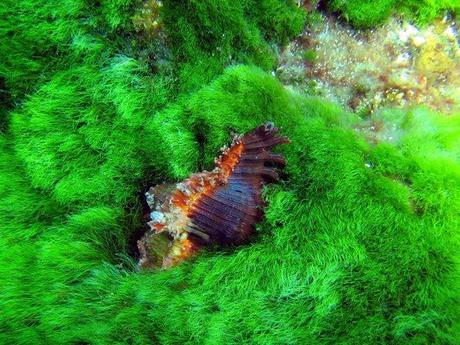 Clams, sponges, tunicates, more.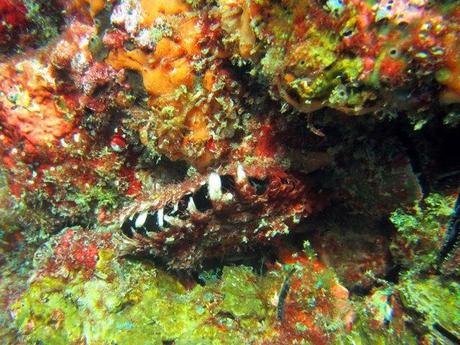 Hard corals, soft corals, living in harmony.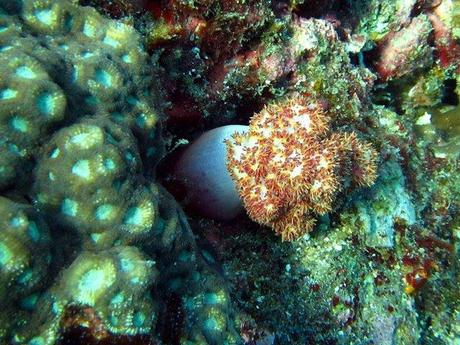 If I could write another parallel life for myself, I'd make Schoolhouse Rock songs for all these amazing critters!
I'm rarely jealous of he divers- most of the life is well within my comfortable freediving range. Still, I'd love to see this with some gear- it's about the depth more than the top 10 meters.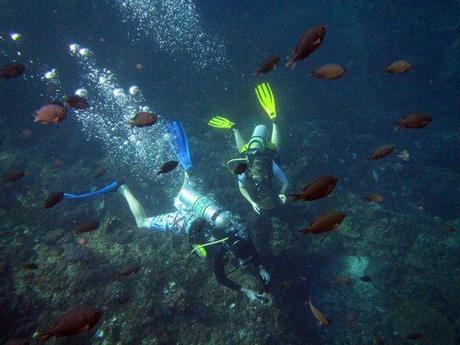 Above water, there's no drama. Just come rocky tips, our dinghy, a couple of dive boats.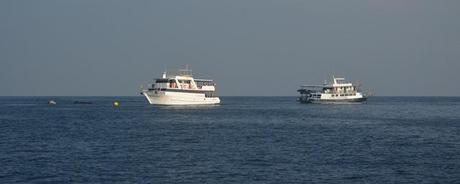 If we get back this way, we'll plan a longer stay, and maybe a bit of gear.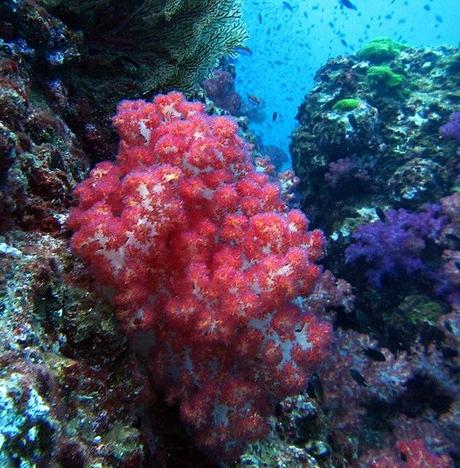 Keen divers know it makes my day if you're reading this on the Sailfeed website.