The great composer as drug of choice.
by
Paul Pelkonen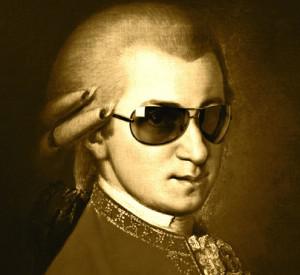 Trust him. He's got what you need: Wolfgang Amadeus Mozart.
OK. I admit it. I'm a Mozart addict.
The works of Wolfgang Amadeus Mozart take up one and a half shelves of my CD collection. Stacked, they'd make a collection about six feet high. Taller if you add the
Complete Mozart Edition
from Brilliant Classics, which goes nicely next to the older
Complete Edition
put out by Philips. (That one is incomplete--I'm missing a few sets. All in good time.)
I have (at last count) multiple complete recordings of
Le Nozze di Figaro,
(seven)
Don Giovanni
(six)  and
Die Zauberflöte
(seven). Those three operas never diminish for me upon repeated listenings. Many more have passed through my shelves in the 20 years I've been collecting CDs.
I have several
Entführung aus dem Serail
s (three),
Così fan tutte
s (five) and
Clemenza di Titos
(two). I even own four: (counted 'em) four recordings of
Idomoneo
. Though it's not my favorite Mozart opera it's still one of the best examples of serious 18th century opera, and should be performed more.
I have piano concertos, symphonies and piano sonatas. Serenades, divertissements, and
A Musical Joke
.
I even own two recordings of his vulgar little Canon in B Flat Major: "
Leck mich im arsch
."
My first live Mozart opera was probably
The Magic Flute
although I seem to remember a City Opera attempt at the fragment
L'Oca del Cairo.
My first date with a girl in high school: I took her to four hours of
Le nozze di Figaro.
And I've been to Salzburg and Vienna, weeping at a performance in the
Hohensalzburg
of that old party favorite
Eine Kleine Nachtmusik.
I know the details of his life. The real ones, not the dramatized falsehoods in
Amadeus.
I know that he was a genius, and no saint. His unusual gifts led to an unusual childhood, and 37 bright-burning years immersed in the creation of music that has lived in the consciousness of Western thoughts for over two centuries.
I'm hooked on Mozart....and I'm proud of it.
With the exception of the month of August and the occasional opera review, I don't get to write much about Mozart on this blog. But his music, with its rich humanity, endless inventiveness and capacity to surprise the ear even when you've heard it an uncountable number of times never ceases to amaze.
Even a turgid performance of one of the symphonies (like the one the other week) offers opportunities to analyze and marvel the perfect, crystalline structures of notes: houses of cards that glow in rich colors and never collapse.
Yep. I'm addicted. Thank God.