So... We were contacted by the talent agency about a month ago that Little Miss NAPB was tentatively chosen to be in a photo shoot for a child care center. Tentatively, that's what they said, so I just thought nothing about it.
Then just a week ago, we got an email saying that the clients have CONFIRMED that Little Miss got the job. Needless to say, mommy was ecstatic! I actually had to reread the email over and over again so many times because I thought I must have misread it. LOL.
Fast forward a week to the actual day of the photoshoot, which happened this morning, everything still felt surreal. We woke up bright and early at 7.30am (mommy actually couldn't sleep since 6.30am), and got ready. By 8.15am, we headed to the bus stop situated five minutes away from our house to take the morning bus to the city (the job location was in the CBD).
Whilst the shoot was scheduled to start at 9am, we were already at the front door of the child care center at 8.30am because mommy didn't realised the job location was only less than five minutes walk from the city bus port! Talk about ridiculous time management, mommy! So we decided to head inside and asked the staff if we could wait around for the crew to arrive.
Little Miss NAPB took in her surroundings and was a little intimidated at first because there quite a few children crying. But all it took was five minutes and she wanted to come down and play. I took that as a good sign and crossed my fingers that she would be just like that for the whole duration of the shoot. 9am came and we saw the crew coming in. Yes! I was beginning to worried that Little Miss would be tiring herself out if they didn't arrive soon and get the job started.
We were led to a waiting room where we could all hang out while the crew took pictures of a baby model first. I'd have to say, I was really proud of my little munchkin for really good behavior during wait time (#87/365).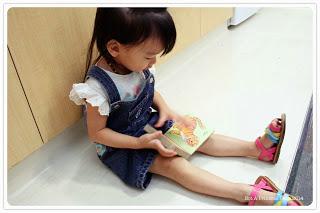 Waiting....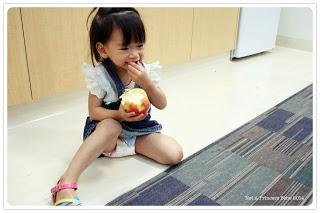 More waiting....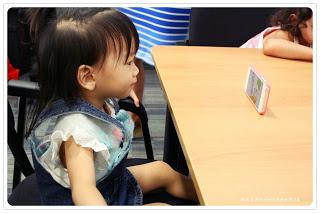 Even more waiting...
After an hour of waiting, it was finally our turn. There were also another two kids with us for the photoshoot, all three of them were so patient while waiting for our shoot to start. One was watching Peppa Pig, one was drawing and munching on some cracker, and Little Miss was happily passing her time watching Pocoyo. All of them wanted to go out to play at the outdoor play area, but they were really really well behaved despite having to wait for their turn. Well done to all three of them!
As much as I wanted to take pictures of the whole photo shoot process, I didn't have the time and energy to actually do it (and plus, we didn't have permission to actually take pictures of the center for personal use). We, the parents, were constantly running around the kids, trying to get them to follow simple instructions, keeping them within the designated area, fetching water for them to water the plants, filling the bucket with sand for them to pour it out again, etc. Definitely a good work out for us adults, such hard work being a mom to a kid during a modelling job! LOL
Overall, we had fun for the whole thing and it was definitely a great experience for Little Miss NAPB and mommy. Because of all the "hard work" playing, bubba was so tired out that she fell asleep on the bus while on the way home. Thank you Cheeky Bumps (Bump Models) for the wonderful day out! Also, check out her portfolio.. due for a much needed update on both the pictures and information soon. ;)