We're both really glad we made the decision to slow down for a few days. The constant cycle of packing, driving, checking in, unpacking, then repacking and doing it all again a day or two later becomes a bit of a chore, and so we're spending four whole days here in lovely Santa Fe. And instead of staying in a hotel, we found a reasonably priced, fully furnished condo to stay in not far from the centre of town.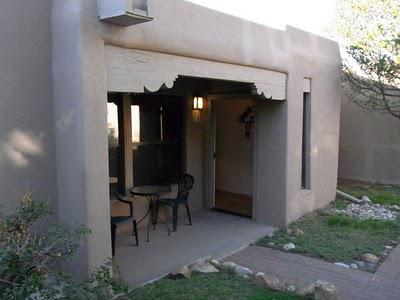 This is the adobe-stye exterior (virtually everything in Santa Fe is adobe style; I've never seen such a dominant architectural style in the one place). Our condo is a one-bedroom spot, but this complex has two- and three-bedroom condos available too. It's called Fort Marcy, and you can check it out at its website,

here

.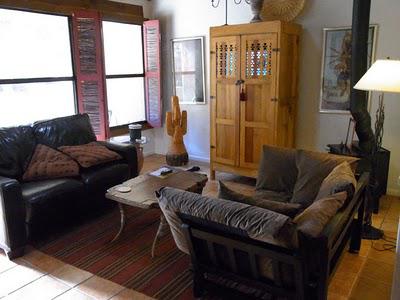 For me, the absolute lap of luxury is a separate living room. I often wake up earlier than Pam, and here I can wake up whenever I feel like it, sneak into the next room, on with the lights and keep on reading the book I am currently enjoying very much ('Travels with Herodotus' by Polish writer Ryszard Kapuscinski). The cute cactus in the corner is carved from wood, and the cabinet contains the TV and audio gear.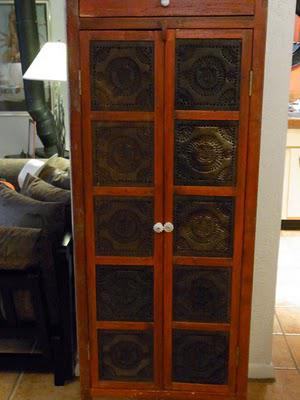 I love this old cabinet with its ornately decorative punched metal panels. I'm not sure whether this is a classy reproduction or just a nice old piece, but it feels like its a charming old New Mexican piece to me, as they usually don't bother with making worn looking dovetail joints in the repros.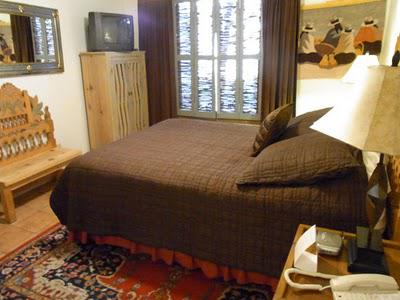 The bedroom is comfy and the place itself is extremely quiet; can't hear a peep from any of the neighbours.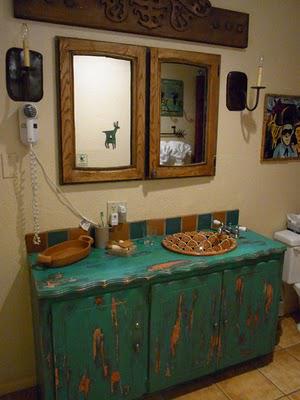 The bathroom is a colourful New Mexican classic.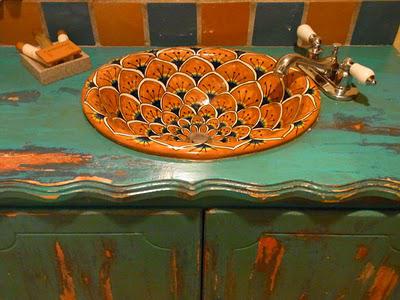 I love the handbasin.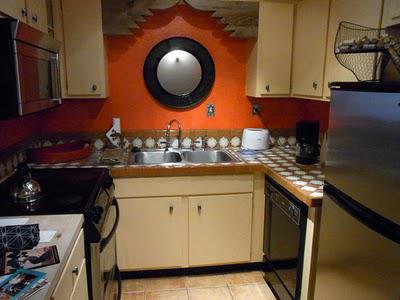 The kitchen has a stove, dishwasher and a full set of pots and pans, etc. One of the things which I know I am going to miss the most on this long drive across the country is cooking. I just love to cook, it always soothes my spirit (as I discovered many years ago on my last long holiday: back then, I felt strangely unhappy and unsettled after a month or two on the road, and it was only when I started renting self-contained units and started cooking for myself that I actually started to feel happier and enjoy that long holiday back in the 1980s). So last night, as we were both fairly tired after an afternoon being tourists in sunny Santa Fe, instead of going out again, I did some cooking, baking some chicken marylands (with lemon and thyme) plus lots and lots of vegetables, to make up for the relative lack of vegies in the restaurant offerings we've been eating these first two weeks on the road. Pammy loves her vegies, but she demolishes chicken portions, too!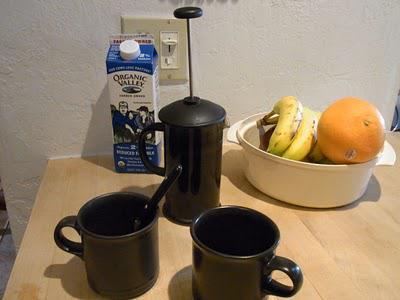 Another blessing of the kitchen is that it allows us to boil some water and make some good, strong coffee using the coffee plunger loaned to us by a good friend (thank you Jolanda!). Contrary to all the stories told to me before our departure, the coffee served at restaurants and hotels hasn't been terrible. It is merely a bit weak for Aussie tastes accustomed to Italian baristas in Sydney's inner city suburbs. The coffee here is about the strength and flavour of any ordinary instant coffee. Not great, not terrible either. In most hotel rooms they have little drip-filter coffee machines, and they produce that drab but OK instant coffee standard drink. What we quickly learned to avoid was the 'creamer' powdered milk which is all that's offered in hotel rooms. So we've been buying small cartons of real milk and taking them up to our rooms.
However, the other big motivator for staying here in Santa Fe for a few days is to let Pammy do some painting. The 'on-the-road' lifestyle isn't exactly conducive to whipping out the paper and brushes at a roadside stop, and so each morning of our four-day stay Pammy is sitting in a corner lit by the morning sun and working away at her art, serenaded by the folky and sometimes Mexican-flavoured tunes played by the very good local radio station.
In the afternoons we head out to do some shopping, but here in Santa Fe there is so much art to take in that we'd need to stay another week to see it all. Along the main strip of art galleries, Canyon Road, there are no less than 130 commercial art galleries. And then there are the major institutional galleries of New Mexican Art, of Folk Art, of Indigenous Native American Art, and of the work of Santa Fe's most famous artist, Georgia O'Keefe. I'll save up the travelogue of Santa Fe art and architecture for tomorrow though.
The weather? Fine, sunny and in the high 70s and low 80s (25-30°C). The skies here are that same clear, vivid blue you see in Australia. No wonder this place attracts so many artists. It's a beautiful place to be, the light is inspiring.
In a few days we have some long drives ahead of us, down through Texas, but in the meantime we're recharging our batteries here in our cosy little adobe condo.