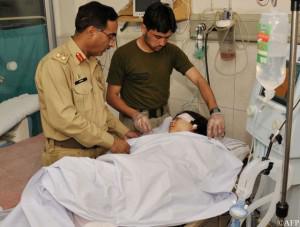 Malala Yousafzai's condition improving steadily but she is still on ventilator
Director General ISPR Maj Gen Asim Bajwa has said that the condition of Malala Yousafzai, the child activist who was shot by the Taliban in Mingora on Tuesday, is improving gradually and consequently the amount of sedatives from her medicines has been reduced.
The DG ISPR said Malala Yousafzai has moved her limbs which is a good sign.
"Movement has been witnessed in Malala's hands and legs which is a positive development," Maj Gen Bajwa said while briefing the media persons about the health of Malala Yousafzai on Saturday.
He, however, said that the 14-year-old children's activist is still on a ventilator and it would be premature to say that when the ventilator will be removed.
DG ISPR further said doctors will decide about the removal of ventilator on Sunday morning. On a question about sending the 14-year-old girl abroad for further treatment, he replied that the board of doctors has not yet made any decision in this regard.
Malala Yousafzai, who earned the global eminence for her work to promote the schooling of girls in her hometown Swat during the Taliban oppression in the Valley three years ago, was on her way from her school in Mingroa when breaded men stopped her bus and shot her and two other girls.