The aron quartett at the Austrian Cultural Forum.
by 
Paul Pelkonen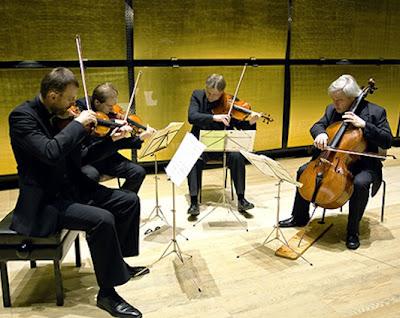 The aron quartett in concert: Ludwig Müller, Barna Kobori, Georg Hamann and Christophe Pantillon.
Photo from aronquartett.at
On Wednesday night, the modern concert hall tucked into the second floor of the Austrian Cultural Foundation was host to the
aron quartett
, an enterprising ensemble of chamber musicians from Vienna. The occasion was a world premiere by Austrian composer Kurt Schwertsik. The packed house included the composer and his wife.
The concert opened with the String Quartet No. 2 in d minor by Erich Zeisl, another in a long line of composers who fled the Nazis, emigrated America and found success in Hollywood. Mr. Zeisl is best remembered for his film scores including
The Postman Always Rings Twice
--although he later abandoned Hollywood to teach music and return to what he thought of as "serious" composition.
Here, the
aron quartett
played his four movements with gritty earnest, with long melodic lines that unfolded from instrument to instrument. Plucked, scraped notes alternated with winding themes tossed from player to player in a performance that made a good case for more New York performances of this elegaic composer's catalog.
Kurt Schwertsik is virtually unknown in this country, and that is America's loss. His music proved to be witty, tonal and elegant, with a slightly arch, elevated tone rooted in his Viennese origins. The
skizzen und entwürfe
("sketches and drawings" consisted of many short movements strung together, creating taut little sound-worlds that came to a cadence, rambled to a close, and occasionally stopped mid-thought. Despite the abrupt endings to some of these little pieces, none felt unfinished.
The second half of the concert began with a short interview with Mr. Schwertsik, followed by the world premiere of the composer's
Liedersammlung
Op. 91, Nos. 3-6. These took the form of four short song-like pieces that paid homage to Mr. Schwertsik's compositional influences and musicians that earned his respect in the course of a long career. The short, elegant movements paid tribute to songwriter Burt Bacharach and jazz pianist Dave Brubeck. The most moving was the third
lied
an elegant tribute with heart-tugging melodic lines--a
homage
to Kurt Weill.
The concert ended with the best known composer on the bill: Erich Wolfgang Korngold. Compared to his early operas, songs and film scores, the Korngold string quartets linger in relative obscurity. Written in 1945 as part of the composer's bid to escape Hollywood (where he had thrived and won two Oscars) this was part of Korngold's post-war bid to regain recognition as a serious composer in the years following World War II.
This not the sweet melodist who conquered Europe with
Die Tote Stadt
and the hearts of Americans with his stirring score for
The Adventures of Robin Hood
. In the Third Quartet, Korngold is a much saddened, bitter man, though still firmly rooted in the Viennese tradition of Beethoven and Schubert. This whole work feels oddly covert, close in idiom to the middle quartets of Shostakovich, works that were safely locked away for many years to escape the eyes of Soviet censors.
This may be bitter fruit, but this is still Korngold, and music that sparkles with wit and allusion. A melodic figure in the first movement cleverly lifts from Mozart's
Don Giovanni.
The
Andante
weeps, its sad minor key dripping with beauty and longing. The harsh alarums of the
scherzo
recall Shostakovich but also look back to Beethoven's
Grosse Fugue
. This long movement sets the stage for the kinetic Finale, a whirling
Rondo
that played out as a sophisticated four-handed game played by experts.