The NJSO plays the Mozart Requiem.
by
Paul J. Pelkonen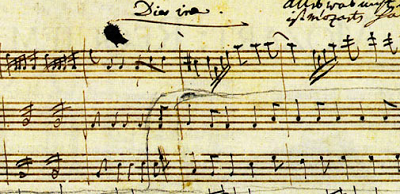 A segment of the Dies Irae from the Mozart Requiem.
Conductor Jacques Lacombe and the
New Jersey Symphony Orchestra'
s concert series at the New Jersey Performing Arts Center (NJPAC) in downtown Newark remain an undiscovered treasure for New York's classical music lovers. On Thursday afternoon, the NJSO opened a concert series featuring two great unfinished compositions: Schubert's Eighth Symphony and the Mozart
Requiem.
The concert opened with
Elegy
, a short 1951 tone poem by New Jersey composer Edward Cone. The late Princeton professor's work featured shifting tonalities and expressive writing for the winds. Despite its relatively benign nature, the composition was a bit too modern for the assembled audience, and was met with polite applause.
Mr. Lacombe and company followed this with the Schubert "Unfinished," an evergreen feast of that composer's trademark song-like melodies and lyric phrasing for the cellos and clarinet. The conductor placed an emphasis on clarity of texture in the first movement, giving a brisk, business-like performance that still had plenty of Austrian charm.
Musicologists remain unsure about why Schubert never wrote the last two movements of this symphony. But that's nothing compared to the controversy that swirls around Mozart's
Requiem.
The work was commissioned by Count Franz von Walsegg. The good Count's man of business approached Mozart masked, scaring the living bejeezus out of the young composer, who was already over-worked from his efforts on
Die Zauberflöte.
Following Mozart's death, the
Requiem
was secretly turned over by Mozart's widow to his pupil Franz Xavier Süssmayer, who completed the remaining sections (including the
Sanctus
and
Agnus Dei
and may have revised and tightened the original sketches. But nobody is certain sure where Mozart leaves off and Süssmayer begins.
In the program notes, Mr. Lacombe mentions a special connection with th Requiem, the first work he led as a young conductor in the Québec city of Trois-Rivieres. (He was 14.) This performance, (featuring a talented quartet of soloists and the Montclair State University Singers) certainly had the whiff of religiosity about it. The conductor stopped between movements, as if he were praying or reflecting on the enormity of the work's cosmic text.
Despite these pauses, overall work had momentum and the dramatic arch that comes in Mozart's best dramatic writing. The soloists, particularly soprano Christine Brandes and bass Robert Pomakov walked the line between devotional music and operatic drama. sAlso effective, the use of brass and kettledrums to create orchestral hellfire in the
Dies irae.
The final sections of this Requiem may be more Süssmayer than Mozart. But given the beauty and power of the
Requiem
, it doesn't matter who wrote it.