Patricia Racette records standards.
Ed. Note
(A clarification: this wasn't exactly a concert, but an invitation-only recording session. Before delving into it, I'd like to thank composer/producer Glen Roven for the gracious invitation, and my good friend
Singing Scholar
for putting the set list details on her excellent Opera Obsession Blog.)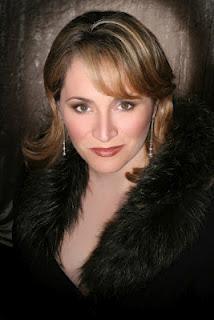 Patricia Racette.
Photo © PatriciaRacette.com.
There is nothing more remarkable than hearing a big voice in a tiny, intimate space.
Such was the case with Thursday evening's recording session with soprano Patricia Racette, who was taking a well-deserved break from the
verismo
roles that are her bread and butter to record 
Diva on Detour,
a live album of Broadway, songbook standards, and songs by Edith Piaf. 
Opera stars don't always get good results when they attempt cross-over repertory, but as the charming soprano assured us, this was music that she grew up singing. Accompanied by the light-fingered pianist Craig Terry, Ms. Racette opened with a quicksilver medley of "I Got Rhythm" and "Get Happy", injecting an exuberant mood into the small recording studio. 
The mood darkened with Jimmy Van Heusen's  "Here's That Rainy Day," a Sinatra favorite that is all too pertinent in this age of high unemployment and government cutbacks. Vernon Duke's "Not a Care in the World" continued the theme of economic depression, which was lifted by a soulful, pain-drenched reading of "Angel Eyes." Ms. Racette then offered a peep into the hectic world of opera with "I'm Calm," playfully mocking her own backstage persona.
She then shifted into the repertory of Edith Piaf, soaring through the great French singer's vocal lines with ease and idiomatic delivery. She inhabited "Milord" and "Padam" with fierce dignity, drawing long spans of notes and producing a crescendo effect as she moved from song to song. The beloved "La vie en Rose" followed, with the singer delivering France's other national anthem with potency and warmth. 
The theme of the set moved to relationships, with the serious ("The Man that Got Away") nimbly paired with parody ("To Keep My Love Alive.") Mr. Terry's unique arrangement of
Come Rain or Come Shine
, built around the C Major Prelude from Bach's first book of
The Well Tempered Clavier
bridged musical styles across the centuries, creating a quite lovely, timeless effect. 
The climax of the set was a devastating triple-knockout punch of "You've Changed," "Guess Who I Saw Today", and Cole Porter's mighty "So In Love", drawn from his best musical,
Kiss Me, Kate.
Ms. Racette brought all of her operatic experience inhabiting the broken heroines of Verdi and Puccini to bear on this miniature three-act tragedy, presenting a raw, naked light on the heartbreak of obsession and failed romance.
She returned to the warm arms of Edith Piaf for the finale, the singer's glorious "Mon Dieu." For this fearless artist, who has walked her own path in the course of a remarkable career on the stage, it was a fitting statement of artistic purpose. After a brief pause, she ended with the words of the great Stephen Sondheim. The song was "Not a Day Goes By."
Diva on Detour 
is available for sale from GPR Records. And it's highly recommended.