Mitsuko Uchida returns to Carnegie Hall.
by Paul J. Pelkonen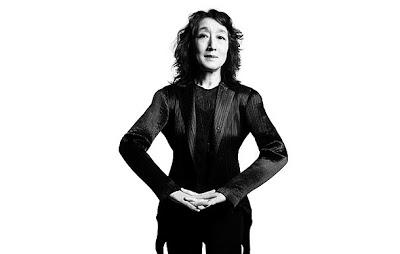 Mitsuko Uchida. Photo © Decca Classics/Universal Music Group.
It's almost unfair to write a "review" of a pianist like Mitsuko Uchida. The Japanese-born, Vienna-educated Dame Commander of the British Empire brings a unique expertise and musical understanding of whatever material she programs, combining a bold musical imagination with a bold technique and a smooth, slightly dry legato that has made her an international superstar.
Ms. Uchida (she prefers not to use her title since being knighted in 2009) remains a bold explorer of the repertory. For this year's Carnegie Hall recital, she chose to study the contrast between the theoretical keyboard exercises of Johann Sebastian Bach and the wild Romanticism of Robert Schumann. Bridging the two men, the
Six Little Piano Pieces
by Arnold Schoenberg, who packed a lifetime of musical influence and education into a work barely over five minutes in length.
The concert opened with two of Bach's
Preludes and Fugues
, drawn from
Book II
of
The Well-Tempered Clavier
, the authoritative forty-eight pieces written in all the major and minor keys. The more familiar
C Major Prelude and Fugue
 (No. 1)opened the concert. The descending arpeggios of the opening were matched with the celestial ascent that followed. The
F Minor
(No. 12) is a dozen keys higher, a stately, reflective
Prelude
followed by a kinetic
Fugue
built around a trilled figure that migrates down the keyboard as each voice is added to the complex tapestry.
Schoenberg's
Six Pieces
are deceptive little works, the joy of some listeners and the frustration of others. They make their mark with wispy tendrils of sound, harsh, jarring dissonances and (you have to listen for it) hints of waltz and the Viennese fairground in works that range from 30 seconds in length (
No. 4)
to an expansive 1'18" (
No. 6
). Ms. Uchida played each of these works with a command that seemed to stop time and force the listener to change their perspective and hear the complex ideas built into these crystalline structures.
The rest of the concert focused on Schumann, contrasting aspects of that composer's  personality by choosing little-known works from three different periods of his too-brief life. She opened with the nine
Waldszenen
, ("Forest Scenes") elegant miniatures that alternate between stately hunting rhythms, the glow of flowers in a meadow and the rough-and-tumble dances of a rustic inn. She spent particular time on No. 7 (
Vogel aus Prophet
), bringing out each of the bright colors and drawing smiles with the familiar bird-song. The reflective final song had a nostalgic quality that would influence the later symphonies of Gustav Mahler.
The second half of the concert opened with an all-guns-blazing performance of the
Second Piano Sonata
, with Ms. Uchida using power and effort to make Schumann's driving rhythmic lines run straight and true with just a hint of wildness. This pell-mell opening (marked
So rasch wie moglich
("As quickly as possible")) yielded to a gentle, more reflective slow movement and a three-minute
Scherzo
echoed Schoenberg's economic style. The final
Rondo
was played at a murderous clip, with the piano still singing despite the effort being inflicted on it.
Ms. Uchida ended her Schumann exploration with the
Fünf Gesänge der Frühe
come from the dark period three months before Schumann was committed to an asylum. Narrow and slight at first reading, they expand aurally as they develop, skirting the edge of chromaticism toward the slippery slope of tonal dissipation. Following thunderous applause, Ms. Uchida offered with a beautiful Scarlatti
Sonata
,  (No. 9 in D Minor) invoking the silent wing-beat of butterflies with effortless, almost operatic trills. The encore ended with the
Andante cantabile
from Mozart's
C Major Sonata
, a slow, wordless eulogy for this pianist's great friend, the late conductor Sir Colin Davis, to whom the concert was dedicated.