Lorin Maazel returns to the New York Philharmonic.
by
Paul J. Pelkonen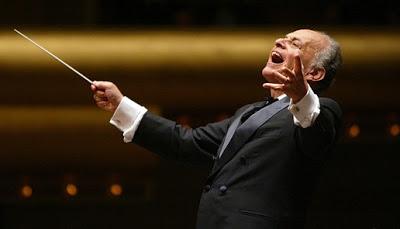 Once more, with feeling. Lorin Maazel conducts the New York Philharmonic at Avery Fisher Hall.
Photo by Chris Lee © 2009 The New York Philharmonic.
Lorin Maazel has been entertaining music lovers for 75 years. Think about that for a minute. The American, Paris-born conductor, composer and former Music Director of the
New York Philharmonic
 will turn 83 on March 6. He started violin lessons at age 5. Conducting lessons began two years later. He appeared before an audience, baton in hand, when he was just 8 years old.
All that experience was brought to bear Thursday night in a concert that saw Mr. Maazel offer his last program with his former orchestra...at least for a little while. (He is not on the schedule for 2013-2014.)
The concert opened with one of Mr. Maazel's trademarks, the Romeo and Juliet Overture-Fantasy that was also the first success of Piotr Ilyich Tchaikovsky. In this performance, conductor and orchestra showed that there is more here than just the famous "love theme"--it is an effective retelling of the play that boils Shakespeare's tragedy down to a lean 20 minutes.
Mr. Maazel worked without a score, occasionally using the high rail of his podium for balance while slicing the air with a long baton. He divided his efforts, urging the strings to swell majestically while keeping the brass in check. Tempos were luxuriant and expansive, especially in
tutti
reprise of the love theme, but the sections depicting street combat in old Verona had punch and narrative drive.
The next work on the program was more interesting: Witold Lutoslawski's
Chain 2: Dialogue for Violin and Orchestra.
Written for Anne-Sophie Mutter (and last performed at the Philharmonic by that artist in 2002) this work consists of four movements which alternate between slow, dream-like sections (
Ad libitum
) that allow the soloist room for extemporization and more rigidly constructed fast movements (marked
A battutta.
)
Ms. Koh played with a keening, yearning tone. At times, her instrument carried the brightly gleaming threads of melody by itself, supported by harsh, barked
tutti
chords, a fragmented line on the celesta or piano, and intricate filigree from the oboe and clarinet. Despite its abstract nature,
Chain 2
is an accessible work, with elegiac, almost folk-like ideas that are twisted and rebuilt through Lutoslawski's own artistic filter.
Dmitri Shostakovich's
Symphony No. 5
is arguably his most popular symphony. It's certainly his most populist. After the firestorm caused by Josef Stalin's negative reaction to the opera
Lady Macbeth of the Mtsensk District
and the withdrawal of his
Fourth Symphony
, the 
Fifth
was a concerted attempt to appease the Soviet government's peculiar requirements and tastes in art music. Shostakovich gave them four perfectly constructed movements that end in a triumphant blaze of Socialist Realism.
Mr. Maazel led an expansive, finely detailed view of the symphony that plunged the work's emotional depths while hinting at subversive messages that (may) lie buried in the score. The funereal opening movement had a heavy, plodding gait, starting a parody of Berlioz but leading to a somewhat watery statement of the main theme in the horns. The Allegretto that followed was very fast indeed, a
Scherzo
that Mahler-like, deliberately fails to ignite in rhythmic abandon.
The
Largo
was played at a
very
slow tempo, with Mr. Maazel luxuriating in the exploration of the main theme for the two lead cellos, stirring a rich, thick
borscht
of sound with his baton. The climactic
fortissimo
at its end came as an almost carefully hidden surprise. It paved the way for the riotous finale, led by the Philharmonic's powerhouse brass section, blowing for all their worth, driven by piano and timpani in the eternal march toward Utopia.