Reposted from The Classical Review. 
by
Paul J. Pelkonen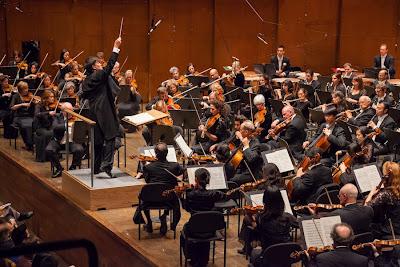 Alan Gilbert conducts the New York Philharmonic in The Rite of Spring. Photo by Chris Lee.
The New York Philharmonic's opening night marks the beginning of the classical music season at Lincoln Center. This year, Alan Gilbert opened the season not with a splashy gala or free concert, but with a regular subscription performance, featuring works by György Kurtag and Igor Stravinsky flanking Beethoven's Third Piano Concerto.
The concert started with Mr. Kurtag's tone-poem …quasi una fantasia…, a "spatial" work that spread the Philharmonic musicians into the depths of Avery Fisher Hall. Alan Gilbert, pianist Leif Ove Andsnes and timpanist Markus Rhoten were the only players onstage. Considering that the orchestra ended its previous season with acelebration of spatial music at the Park Avenue Armory, the Kurtag proved a smart choice.
Click here for the full article
, available on
The Classical Review.