Yuja Wang in recital at Carnegie Hall.
by
Paul J. Pelkonen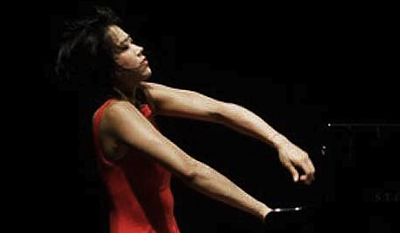 Yuja Wang. Photo by Xavier Antoinet.
Image © 2013 YujaWang.com.
In the course of this young decade, the pianist Yuja Wang has emerged as one of the most galvanizing artists of the keyboard appearing on concert stages. Her rock-solid virtuosity, brave repertory decisions and habit of playing recitals in a minimal black dress and a dazzling pair of heels have made her a piano celebrity, the kind that comes along once in a generation.
On Thursday night, Ms. Wang returned to the stage of Carnegie Hall with a taut, self-contained program of compact works perfectly suited to her aggressive piano style. This recital bridged modern American music (by Lowell Liebermann) with Scriabin, Rachmaninoff and Ravel, early 20th century masters whose piano writing continues to challenge soloists, even at Ms. Wang's level of skill.
The program opened with Mr. Liebermann's
Gargoyles
, a four-part work that mirrored the structure of a classical sonata without necessarily adhering to the form. Ms. Wang's skill in playing sinewy ostinatos and dazzling runs up the keyboard were very much at the fore, as she pounded out rhythms suggestive of Stravinsky and Dukas. She shifted gears between the four mini-movements, culminating in a driving finish that dazzled the ear and made a good case for the works of this contemporary composer.
Rachmaninoff's
Second Piano Sonata
is one of his best known and loved works. Ms. Wang made the composer's characteristic melodies and powerful Slavic rhythms glisten with a sharp, modern edge. Stripping this work of its sentimentality is no easy feat. However. Ms. Wang made the sweep and grandeur of the big tunes were still present, along with the immaculate musical logic that courses through the three movements. Given her pedal-to-the-metal approach, it was the last movement that emerged as the most impressive, with the whole
Rondo
culminating in a final, thundering chord.
The second half of the program (played in that
oh-so-controversial bright orange dress
) was much more interesting. Ms. Wang took on a pair of piano sonatas by Aleksandr Scriabin, the Russian composer (and schoolmate of Rachmaninoff's) whose career was characterized by a strange trajectory into theosophy, yoga, and a plan to mount a world-ending concert in India complete with colors and scents that would maximize the sensory overload of his music.
Scriabin's
Second Piano Sonata
dates from an earlier period, but it is still unconventional, with strange beams of light and melody emerging from dense textures and clouds of sound. It was followed by the
Sixth Sonata
, a work painted in various tones of black and umber that so scared the sensitive composer that he refused to play it. Ms. Wang had no such inhibitions. She highlighted the gleaming, jewel-like melodies of the
Second
with an astonishing display of fast, light-fingered playing. The
Sixth
was even better, with a rock-solid rhythmic foundation that let the listener grasp this eccentric composer's true intent.
Ms. Wang ended her concert with Maurice Ravel's one-piano version of
La Valse
, the orchestral tone poem that uses this beloved Viennese theme to reflect on the death and destruction of World War One. Following the two Scriabin works,
La Valse
functioned as the logical third movement of a larger musical structure. As Ravel collapsed his original tonal triple-time theme into crashing tone clusters in the bass register, one heard the bleak despair of the Scriabin Sixth echoed and redoubled in the last bars.
The concert concluded with a brace of encores, met with rapturous applause from the suddenly diminishing audience. Ms. Wang treated her listeners to a difficult one-two punch of Rachmaninoff (the
Élégie in E-flat minor
and Prokofiev, reaching all the way back in that composer's
oeuvre
for his first opus number, the
Toccata No. 1.
This astonishing display of rhythmic playing and wrist strength was followed by Vladimir Horowitz'
Carmen
variations, a work built on the gypsy dance that opens the second act.
Ms. Wang concluded her bows with two pieces designed to show the reflective side of her playing. The C# minor Chopin waltz was not a success, taken at a very fast tempo. Franz Liszt's transcription of Schubert's
Gretchen am Spinnerade
was better, played with grace and lyric beauty. It was the perfect dessert to a hearty pianistic meal.