Daniel Barenboim and the Staatskapelle Berlin at Carnegie Hall.
by
Paul J. Pelkonen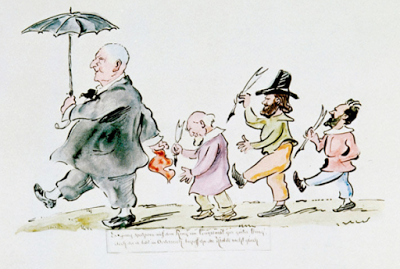 Bruckner (left) and his critics, Eduard Hanslick, Max Kalbeck and Richard Heuberge.
At the end of its first week, the ongoing Carnegie Hall Bruckner marathon has moved into familiar territory this week, leaving behind the obscure early symphonies for works which, while not programmed with great frequency nonetheless show up regularly in the repertory of large symphony orchestras. Here it was the turn of the
Symphony No. 6
(nicknamed "The Philosopher"), paired with Mozart's
Piano Concerto No. 22
, a genuine crowd-pleaser.
It may seem like nothing more than good, if cynical marketing to pair Mozart and Bruckner, two composers who, superficially have little in common other than being from Austria. However, Mr. Barenboim, who plays the solo piano parts in all of the concertos in this cycle and has conducted the entire festival from memory seems to have found a profound connection between the young virtuoso from Salzburg and the tentative, rustic counterpoint professor from the small city of Linz.
Indeed, both composers were ground-breakers, with Mozart testing the limits of classical form in his late concertos. In the
Concerto No. 22
, the opening phrase can be described as a downward stab of strings followed by a quiet chorale of horns, elements that would not be out of place in Bruckner's more cosmic works. Mr. Barenboim took a loose and indulgent approach to this opening movement, playing with plenty of rubato and maintaining a sometimes garrulous
cantabile
line.
That song-like approach continued in the second movement, which features some of the most introspective solo piano writing in Mozart's catalog. The skipping finale brought smiles and recognition to the faces of the audience as Mr. Barenboim leapt gaily into one of those Mozart themes that everybody seems to know. He kept the players focused as the theme went through a  knotty set of variations, sometimes conducting with one hand, otherwise using shoulders and presumably eyes to cue the musicians as he played.
Having indulged in his taste for organ-like fugue and counterpoint in the
Fifth Symphony
, Bruckner returned to Earth for the
Sixth.
This symphony also uses a slightly smaller orchestra with one brass section and only one timpani. Although not played as frequently as the "hits" (Symphonies 4, 7 and 8) it has the advantage of being the
shortest
major Bruckner symphony, turning to earthly concerns in the course of four movements.g,
The
Sixth
started with a juddering string
ostinato
before a big, serious theme came roaring out in the brass section. It was followed by a gentler string theme, and a melody in the woodwinds. All of these fragments were woven together into a mighty whole, with Mr. Barenboim urging his players into a raging, radiant storm of sound. The climax came with a cascading chorale trumpets, horns and trombones, building to a unison sound in an effect that would become a trademark of this composer.
A slow-rolling
Adagio
followed, with a dark, inward-looking theme, deeply romantic in its nature. This was echoed by the Oboe before violins took up the song, echoing the small army of cellos in a slow, sad, measured cadence. The
Scherzo
followed  in its standard place, with a prancing figure in the strings answered by a roaring, angry fanfare in the brass. Only in the last movements did Bruckner and Mr. Barenboim bring all these disparate elements together, doing so in a movement that (among other things) included a repeated and significant four-note theme from Wagner's
Liebestod
, almost as if Bruckner were meditating on the nature of love itself.