Susan Graham returns to Carnegie Hall.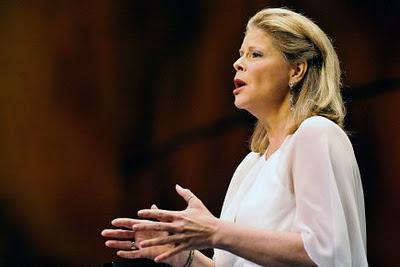 Angelic, yet heroic: the sublime Susan Graham.
Mezzo-soprano Susan Graham is a paradoxical artist. Her rich, agile instrument is lush and seductive, but New Yorkers usually see the tall Texan in
travesti
roles: Cherubino in
Le Nozze di Figaro
, Octavian in
Der Rosenkavalier.
This recital, her first solo appearance at the Hall in five years, ignored that image with a program focusing on heroines from history and literature. It opened with the singer coming onstage in a shell-like white gown, to sing "Tell Me, Some Pitying Angel." In Henry Purcell's
scena
, the Virgin Mary worries about the absence of her Son. Ms. Graham used several different approaches to this music, producing smooth, sweet tone but also evoking the Madonna's distress.
She then produced a ravishing effect in a second monodrama: Berlioz'
La morte d'Ophelia.
Ms. Graham sounds especially at home in French repertory, producing ravishing tone and lush, smooth vowels. This was the Ophelia of Berlioz' obsession, a Romantically heightened version of Shakespeare couched in rich piano figurations supplied by accompanist Malcom Martineau. (This is also one of Berlioz' few works for that instrument.)
Then, Ms. Graham embarked on a fascinating exercise. She sang a cycle of art songs by Schubert, Schumann, Liszt, Duparc, Tchaikovsky and Hugo Wolf, all depicting this tragic heroine Mignon from Goethe's play
Wilhelm der Meister
. The works increased and developed in harmonic richness, starting with Schubert's sturdy accompaniment and climaxing in the Wagnerian excesses of wolf. New light emerged from each song, as Ms. Graham explored different aspects of her personality in multiple musical voices and three different languages. A
tour de force. 
The second half of the program began with a change in wardrobe and attitude for the mezzo. She offered another monodrama, the little-known
Lady Macbeth
by composer Joseph Horovitz. This is a different, more melodic take on the character than that in Verdi's opera, with tremendous opportunity for psychological exploration in the spare, haunting chords. Ms. Graham shifted rapidly from the Letter Scene, to the Murder, then bringing pathos to her final "to bed, to bed, to bed" at the end of the Sleep-walk.
Mr. Martineau and Ms. Graham then leapt into
Fiançalle pour Rire
, a cycle of six songs by François Poulenc that sit in the center of this singer's comfort zone. She alternated between joy and grief in these moving songs, based on poems by Louise di Vilmorin and reflecting on the rapid cycle of emotions caused by the onslaught of World War II.
The program seemed short, but a note in Playbill mentioned further selections "to be announced from the stage." These proved to be an entertaining potpourri, in a lighter vein. Highlights included comic songs by Cole Porter ("The Physician" and Stephen Sondheim ("The Boy From...") The concert ended with "Sexy Lady," a reflection on Ms. Graham's own career on the operatic stage, which pastiched the
travesti
scenes of Strauss and Mozart with the alternating with the original music of composer Ben Moore. 
Listen to Susan Graham's 2006 Carnegie Hall performance of "Sexy Lady."
The concert ended with Ms. Graham returning for one last song:
À Chloris
 by Reynaldo Hahn. Introducing this
melodie
as her "favorite song", Ms. Graham caressed its curves with her lush instrument, crafting a sensual spell that stopped the audience in its tracks to reflect on the brilliance and invention of this sublime singer. With singing like this, who needs trousers?