Jeanne d'Arc au Bûcher at Carnegie Hall.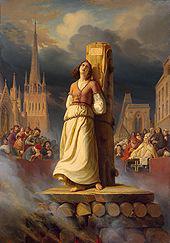 Joan of Arc's Death at the Stake
by Hermann Stilke.
Image from Wikimedia Commons.
Saturday night at Carnegie Hall featured a  New York appearance from the Baltimore Symphony Orchestra, performing Arthur Honegger's equally rare Jeanne d'Arc au Bûcher, a 1935 dramatic oratorio depicting the martyrization of Joan of Arc. Marin Alsop conducted.
This  unconventional oratorio requires vast resources, superbly commanded here by Ms. Alsop. Honegger wrote for a giant orchestra, a three-part chorus, and the ondes Martenot, an early electronic instrument whose eerie, swooping sound represents both the barking of dogs around Joan's stake and the onslaught of divine intervention.
Honegger is chiefly remembered today for his membership in Les Six, the handful of France-based composers who modernized music in the first half of the 20th century. His work is tonal, rising from the minor-key darkness of the prologue (added when the work was revised in 1946.
The music veers into a satiric, jazz-inflected voice in the description of Joan's trial (her prosecutor is a pig, the judge depicted as a sheep) and the "game of cards" where Kings and Queens shuffle and cut for the right to kill the innocent Joan. Ms. Alsop kept taut control over the tricky rhythms and the shifts in mood, with characterful contributions from the large cast of singers and actors.
 The work achieves an ecstatic height in its last sections, starting with the passage where Brother Dominic (Ronald Guttman) grills Joan about the discovery of her sword. At this point, the music shifts heavenward, with overwhelming, rising passages that depict the religious fervor of Joan and influence of a higher power on her short life. 
Right before the burning, a medieval folk-dance, Tirazo is added to the orchestral fabric. Like the Turkish march in Beethoven's Ninth Symphony, the dance drives the work to a higher energy level, for the difficult, emotionally wrenching depiction of the burning itself. This final sequence rises to an extraordinary height, with the orchestra thundering, the chorus providing support and the soprano voice of the Virgin welcoming Joan to Heaven. 
Jeanne d'Arc requires a large cast. Soprano Tamara Wilson was potent as the voice of the Virgin Mary, although she fought to get over the huge orchestra in the last pages. Tenor Timothy Fallon was squally and bleating, appropriate to the part of the porcine prosecutor. Bass Morris Robinson made a strong impression in his short passages. 
The part of Joan is spoken. Actress Caroline Dhavernas was a powerful, dramatic force. Her hair bound up and her dress plain (historically accurate, as Joan was tried wearing men's clothing), Ms. Dhavernas became a simple figure of faith standing up for injustice. The contemporary, political resonance of this image only added to the overwhelming strength of this performance.