Pierre-Laurent Aimard in recital at Carnegie Hall
by
Paul J. Pelkonen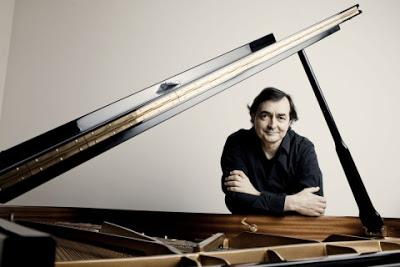 Piano man: Pierre Laurent-Aimard and friend.
Image © 2012 Universal Classics/Deutsche Grammophon. 
Go to enough piano recitals and you learn that the major artists working today on the concert circuit differ themselves by
touch
: the sound made from the particular combination of muscle movements in depressing the key of a black Steinway. Thursday night's Carnegie Hall recital, featuring French soloist Pierre-Laurent Aimard, was all about touch, with major works by Debussy and Schumann flanking a more modern composition by Heinz Holliger.
The performance opened with the second book of Preludes by Debussy. Before Debussy, a cycle of Preludes was the composer's opportunity to show his command of tonal organization, usually starting at the "home" key of C Major and moving around the different tonalities to create a homogeneous set of works that illustrated different colors of the instrument.
Debussy's Preludes break the mold, starting with the bitonal
Brouillards
and engaging in a series of fascinating tone poems. Mr. Aimard shifted gears continuously, from the
habañera
 rhythms of
La Puerta del Vino
to the hopping, deliberately awkward rhythms of
General Levine.
Ondine
provided contrast again in its bold, swelling arpeggios, played with liquid ease and careful pedal-work.
The second half of the program started with
Elis (Three Night Pieces)
, a set of three short tone poems by Heinz Holliger, the Swiss composer and oboe virtuoso. Mr. Aimard conveyed the claustrophobic intensity of these small-scale pieces inspired by the dark poetry of Georg Traki. These particular works depict a trapped coal miner and the discovery of his corpse. They are jagged, angular shards with their own crystalline beauty.
Mr. Aimard then set aside the Holliger sheet music and launched directly into Robert Schumann's
Symphonic Etudes
, a set of dazzling piano variations replete with stirring melodies and orchestra-like effects. Schumann's work, like Debussy's pushed the envelope of what was possible on the piano, alternating voices between "Florestan" and "Eusebius," the two sides of Schumann's musical personalities.
The split nature of these Etudes is underlined by the decision to include the five variations added posthumously to the work. Mr. Aimard chose to play these as a block before returning to the orginal material. Throughout, he played Schumann's driving "Florestan" rhythms with force and precision, favoring the text over opportunties for display. The more thoughtful "Eusebius" sections had dazzling moments offset by languours of dreamy contemplation.
After several bows, Mr. Aimard finally agreed to a short encore. It proved to be
Fratribute
, a thorny, spacious piece written in 2008 by Elliot Carter. This two-minute work was commissioned by Met music director James Levine, and premiered in 2009 by Mr. Aimard. Here, the pianist played with emotion and respect for the recently deceased American composer, offering those who stayed the most profound and elegaic playing of the entire evening.