Teatr Wielkl brings the Voice of the Mountains to Carnegie Hall
by
Paul J. Pelkonen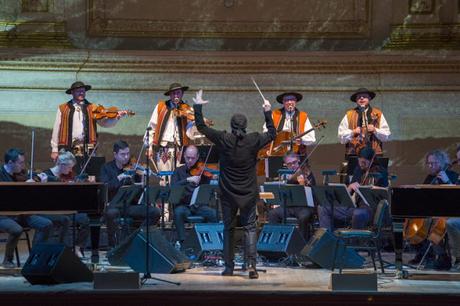 Mountain men: Marek Mós led three different ensembles at Carnegie Hall on Wednesday night.
Photo by Richard Termine © Richard Termine.
The first things you noticed were the mountains looming high above the stage of Carnegie Hall. In sober black and white, they scrolled majestically across the three plaster and gilt panels that form the rear wall of the Perelman Stage. On Wednesday night, Carnegie Hall played host to
Voice of the Mountains
, a multidisciplinary musical celebration of the great nation of Poland, brought by that country's national opera company Teatr Wielki. This innovative program has toured from the shores of Portugal to the steppes of Kazakhstan, and this concert marked the North American premiere of this show.
Those mountains, and other scrolling projections formed an integral part of this concert: an uninterrupted tour of the great musical diversity of Poland. To classical music wonks, this country brings thoughts of hothouse Romantic piano creations or perhaps the fearless experimentations of modernists like Penderecki and Lutoslawski. However this presentation, led with aplomb by last-minute podium substitute Marek Mós, was very different.
Mr. Mós led a polyglot ensemble incorporating two string quartets, four jazz musicians and the Highland Quartet, four folk string players who sang what were introduced on the program as "traditional Highland melodies." These folk songs drew strong emotional reactions from older members of the largely Polish-speaking audience--a gentleman in my row sang along with every word under his breath.
The four musicians played standing up including the cellist, who slung his big instrument like a
guitarrón.
For one of these songs, one of the four put down his strings entirely for the deafening alternative of the
Dudy wielkopolskie
, the traditional Polish bagpipes. The meaning of the songs was lost to this listener but they were all accompanied by projected images of (presumably) happy and content Polish peasants.
There were also offerings more in keeping with the tenor of Carnegie Hall. Two short modern piano concertos were featured with arranger Janusz Olejniczak as the dexterous soloist. The first of these was by Wojciech Kilar, known outside Poland for his haunting film scores including
Bram Stoker's Dracula
and
The Ninth Gate
. This hard-driving concerto climaxed with a thunderous toccata, arranged for a
tutti
consisting of the combined forces of both string quartets onstage.
The Op. 40
Piano Concerto
by Henryk Górecki received an even more stark facelift, as it is originally written for a solo harpsichord. Mr. Olejniczak reworked the piece requiring muscular playing from the chugging strings. Górecki is known as a "one hit wonder" (his
Symphony No. 3
) but a performance like this makes one want to explore deeper into his catalog of works. Mr. Olejniczak then applied his talents to two mazurkas by the 20th century composer Karol Szymanowski. These are kinetic, explosive works.
The best part of the evening was an impromptu. Drummer Jan Młynarski started playing a soft, gentle solo on his seated kit, laying down the beat for what was to follow. Bassist Andrzej Święs and keyboardist Jan Smoczyński swung in behind. One of the violinists stepped to the lip of the stage and played a jazz tune, taking a solo for himself and allowing Mr. Jan Smoczyński and Mr. Święs room to do their thing. It was followed by another bit of Kilar modernism: the stirring
Orawa
arranged vy Mr. Olejniczak for all the musicians onstage to thunderous effect.
If you enjoyed this article, it's time to visit and join 
Superconductor's Patreon page,
. You can get early access to reviews and help support the cost of independent music journalism in New York City at the low cost of just $5/month.