The New York Philharmonic premieres (most of) Wynton Marsalis' new symphony.
by 
Paul J. Pelkonen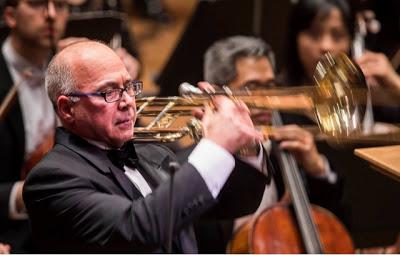 Trombonist Joseph Alessi was the featured soloist at the New York Philharmonic on Wednesday night.
Photo by Chris Lee. Copyright 2016 The New York Philharmonic.
In 1957, the nexus between the tradition of European classical music and American jazz was dubbed the "third stream" by the late composer Gunther Schuller. On Wednesday night at the New York Philharmonic, Alan Gilbert and his orchestra essayed this dangerous crossing with the world premiere of Wynton Marsalis' new symphony
The
Jungle
(
Symphony
No
.
4)
. It shared the program with works by Aaron Copland and William Bolcom that also explored this juxtaposition of musical styles.
Alan Gilbert was back on the podium at David Geffen Hall for this concert, which opened with Copland's
Quiet City.
This is an urban portrait, scored for trumpet and English horn against a shimmering background of strings. Here, soloists Christopher Martin (trumpet) and Grace Shryock (English horn) navigated Copland's streetscape, their instruments taking the part of  lone voices crying for succor and emotional connection in the depths of the urban wilderness. Mr. Gilbert drew surges of sound from the string players while finding room for the soloists' expression.
Next was a welcome reprise of William Bolcom's new
Trombone Concerto
, commissioned for and premiered six months ago as part of the 2016 NY Phil Biennial. This is an expansive piece that features soloist Joseph Alessi, using his instrument and two different mutes to explore the distinct and very vocal qualities of the trombone. In the opening
Quasi una fantasia
, all three voices were heard as Mr. Alessi switched mutes, using the "straight" and "bubble" mutes to produce nasal sounds and something very like a duck call that challenged the huge orchestra to respond.
The soulful, un-muted sound of Mr. Alessi's instrument was at the heart of the second movement, marked
Blues
. This was a sad, modal sound, mournful against an orchestral backdrop that suggested Mr. Copland's lonely streets. The final
Charade 
was much more playful, requiring virtuoso playing from the solo instrument and nimble leadership from Mr. Gilbert. Judging from this audiences appreciative reaction, this concerto deserves to be heard more in the future.
Sadly, that same fate may not be in store for Mr. Marsalis' new piece. This performance came with a program insert announcing that the first movement had been cut. So the work began in media res, distorting its presumed original intent and diluting its effect. Mr. Marsalis sat in with his Jazz at Lincoln Center Orchestra, augmenting the Philharmonic with piano, upright bass, trap drums and two lines of winds and horns, an ensemble which would do antiphonal battle with the Philharmonic in the five movements that were actually heard.
The second movement now occupied the leadoff spot. Titled
The Big Show
, it offered bright, dazzling colors, sprung rhythms and tricky saxophone fills. Odd meters and string polyrhythms emerged over a pulse of timpani and a steady piano accompaniment. The use of rhythm throughout this work recalled Stravinsky, and the score was stuffed with nods and references to Copland, Bernstein and other luminaries of the city's musical history. One heard a seemingly endless parade of clamoring ghosts, all making their case to be heard. What was missing was a sense of individual voice from Mr. Marsalis himself.
A slow dirge made up the third movement,
Lost in Sight, 
climaxing in a huge and unmistakable quotation of an antebellum spiritual with the clank and shudder of chains from the expanded percussion section. This historical reflection yielded to fiery rhythms in
La Esquina 
a supple Afro-Cuban tribute to New York's vibrant street musicians. Another slow movement followed suit, the tender and intimate
Us
, reminding one of Mahler's second nachtmusik in that composers Seventh.  This led to the finale, titled
Struggle in the Digital Market
. This started as a fast movement, then slowed to a threnody dominated by the inhuman, siren-like wail of Mr. Marsalis muted trumpet. As his instrument wailed, one could not help but think of the unperformed first movement. Had this new symphony been heard in its entirety, these moans and laments might have had some context. 
In a welcome encore, Mr. Alessi returned to the stage, indulging in a jazzy number over a piano-and-rhythm vamp. He did playful battle with the four jazz trombonists in the Lincoln Center ensemble, wrapping the last few chords as a final holiday present for the patient and enthusiastic audience.