Musicians gather at Symphony Space to celebrate John Eaton's birthday.
by
Paul J. Pelkonen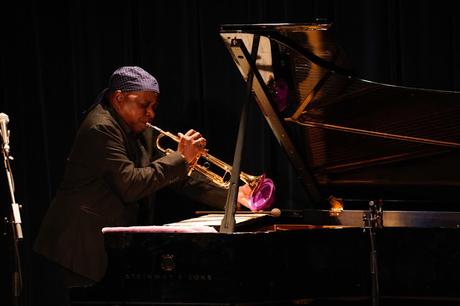 Jalalu-Kalvert Nelson pays tribute to the late John Eaton, using the sound-box
of a Steinway piano as a natural onstage amplifier. Photo by Joshua Tressler.
It was part birthday party, and part wake for a composer who died in 2015. On Saturday night, composers, music lovers and the curious gathered at the Leonard Nimoy Theater at Symphony Space on the Upper West Side to commemorate what would have been the 84th birthday of John Eaton: composer, inventor and iconoclast.  Mr. Eaton was a well-loved teacher and creator of the "Pocket Opera" series, which offered quirky, chamber-sized stagings on the little downstairs stage at Symphony Space. He was a kind, gentle and towering figure and his students came forward to create this evening of their work. The concert, "Celebrating John Eaton's Legacy" was presided over by the composer's widow Nelda Nelson-Eaton.
The concert was divided into two distinct halves. The concert started with a short song recital with composer Carol-Ann Weaver and soprano Mary-Catherine Pazzano. This was the New York premiere of Ms. Weaver's
Songs For My Mother
, which evoked the rural Kentucky background of her childhood. These made use of percussive piano and the open-tuned melodies that underpin Appalachian music, and the lyrics of offerings like "Hard Shell Baptists" had a certain comic distance. The little set ended with "To The End", an emotional setting of the late Mrs. Weaver's last words.
Next came a trio of instrumental creations. Dividing her efforts between oboe and oboe d'amore (like a small English horn), composer Patricia Morehead keened, wailed and shrieked over a wash of electronics and the occasional digital beat. Flautist Roberta Michel and Daniel Lippel explored some unconventional textures in a setting of "Kyrie" by Richard Cameron-Wilfe, transcribed for these instruments by Sergei Gorkusha.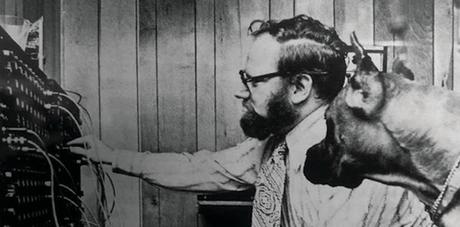 Man and friend at work: the composer John Eaton.
Photo © The John Eaton Foundation.
Far more interesting was "Taking the Scarlet" by composer Winnie Cheung. which paired Christopher Otto of the JACK Quartet with kotoist Yumi Kurosawa. This huge, plectrummed string instrument (a set of stretched strings over a long wooden sounding board, held up with movable bridges) has a unique dynamic range. Ms. Kurosawa showed its capabilities as a bass soloist as Mr. Otto produced different bowed effects over the deep, resonating notes. It was an otherworldly meeting of East and West.
The second half ended with the U.S. premiere of composer Randolph Peters'
Juggernaut
, a three-movement string quartet played in one continuous bloc. Mr. Peters' work evoked the  Ratha Yatra processional rituals to the Shree Jagannath Temple in Puri, India. The players built a slow rhythm that gathered momentum and force, until a frenzied middle section evoked the rolling of a great and divine engine on the verge of going out of control. The final sequence
Requiem
included Mr. Peters' electronics in the form of human voice.
The second half was opened by trumpeter Jalalu-Kalvert Nelson, a close personal friend of the late Mr. Eaton. His improvisations on "What if this present were the world's last night?" from
The Holy Sonnets of John Donne
featured a lengthy spoken free verse that was part remembrance and part eulogy. It was replaced by the sound of Mr. Nelson's trumpet, played with its bell aimed directly into the soundboard of the open Steinway piano. This "echo" effect was a common thread throughout the night's programming, as Mr. Eaton was a pioneer in this kind of simple, found amplification for instruments and even the human voice.
Ms. Michel returned, this time armed with a crooked bass flute, accompanied by bass clarinetist Vasko Dukovski. Their "For John Eaton", composed by Marc Satterwhite was simple in its eloquence, reveling in the unusual combination of low instruments and their mourning voices. The Bowers-Fader duo, a mezzo soprano and accompanying guitar delivered
Los Cuatros Acuerdos
("The Four Agreements") by composer Judith Saint-Croix. Three of the quartet players from earlier accompanied soprano Deanna Meek in Eugene O'Brien's
Lullaby
, derived from text by W.H. Auden. The concert ended with Mr. Eaton's own work: his Spanish settings of
Sor Juana Songs
, delivered with terrific power by the duo of soprano Kate Maroney and pianist Irena Portenko. And yes, Ms. Maroney sang directly into the piano's sound-box, raising her voice to a mighty shout.
John Eaton would have approved.
If you enjoyed this article, it's time to click over to
Superconductor's Patreon page
, and help support the cost of independent music journalism in New York City at the low cost of just $5/month.