At SubCulture, six young composers make CONTACT!
by Paul J. Pelkonen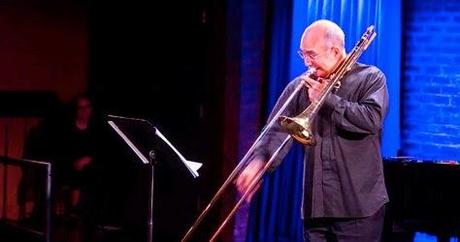 Slide on this: trombonist Joseph Alessi makes CONTACT! at SubCulture.
Photo by Chris Lee © 2014 The New York Philharmonic.
The NEW YORK PHIL BIENNIAL is in its second week. On Tuesday night, six members of the Philharmonic gathered at SubCulture for the second
CONTACT!
program of the festival, featuring works commissioned for solo performers by a minor galaxy of talented young composers. The concert, hosted by SubCulture co-founder Eric Kaplan showed the brilliance and diversity of each composer, and the talents of featured Philharmonic players in these very different compositions.
The program opened not with music but with a poetry reading. Composer Paola Prestini invited poet Bridget Shaughnessy to read from
Eight Takes
, the poem that inspired her composition for solo 'cello. Soloist Sumiri Kudo's performance followed, a work that sounded rooted in the first
Prelude
of Bach's solo cello suites yet unafraid to bend the strings in strange new directions.
Far more interesting:
As Above, So Below
which composer Eric Nathan was inspired to write after studying in Rome. An account of a feathery ascent over that great city for solo trombone (and a soft pine-grove landing that may owe something to a certain work by Ottorino Respighi) it was conceived by Mr. Nathan as a "duet" for one player. This was achieved by having soloist Joseph Alessi repeatedly open the tuning-slide from his instrument's F-extender. This produced a throaty, backward whine from this normally grave instrument, which alternated with the ordinary tone from the bell. (At least Mr. Nathan didn't write a part for the spit-valve.)
The set of
Threaded Madrigals
by Oscar Bettison were far more conventional, showing the different voices of the solo viola, an instrument normally relegated to support duties. Soloist Rebecca Young demonstrated her mastery of the instrument in a piece that recalled the string works of the pre-baroque era, yet incorporated modern ideas as well.
Pianist Eric Huebner made the most of his rare solo opportunity with his 2010
Four Pieces for Solo Piano
, the only piece on this program that was
not
receiving its world premiere. Composer Ryan Brown decided to confine his writing to the upper half of the instrument, creating unusual, almost 18th century textures on the piano by stripping it of its bass and baritone registers. Each of these movements (with titles like "Stage Whisper" and "Slap") was theatrical in its own right, given an energetic reading by Mr. Huebner.
The most challenging work of the evening was
Of Sorrow Born: Seven Elegies
by Michael Hersch. Written for violinist Yulia Ziskel and commemorating seven losses in the composer's personal life, this series of short, funereal pieces threatened to tear itself apart like gossamer, with whispered phrases for the instrument alternating with moans of grief.
Chris Kapica's wonderfully titled
Fandanglish
for solo clarinet opened with the composer declaring his love of "funk." The piece that followed, part New Orleans funeral procession and part workout for the upper registers of the clarinet (including the headache-inducing highest register that can try the patience of any listener) showed the dizzying capabilities of soloist Pascual Martinez Forteza, but was, to this listener, not funky at all.