The Orchestre Révolutionnaire et Romantique at Carnegie Hall.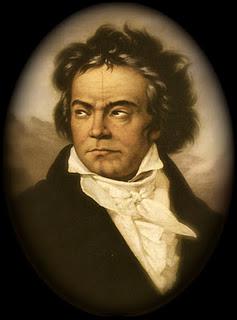 Ludwig van Beethoven.
Thursday night at Carnegie Hall featured the second of two concerts by the Orchestre Révolutionnaire et Romantique. For the past two decades, this British ensemble has specialized in playing Beethoven, using only instruments from the composer's lifetime.
The concert featured Beethoven's Third (Eroica) and Fourth Symphonies, under the baton of Orchestre founder and period performance specialist Sir John Eliot Gardiner. The show opened with the overture to The Creatures of Prometheus, the opener of the composer's lone ballet score. It was played as a vigorous, spicy amuse-bouche, setting the table for the meal to come.
Although the program placed the Fourth before the intermission, the first symphony played was the Eroica. Its sudden start was a welcome surprise, catching the audience off-balance with the familiar piece.arp bangs. Occasionally the sound was marred by an overtaxed violin or a balky horn, but the musicians' passion and Beethoven's genius overcame these obstacles to enjoyment. In the first movement, Sir John Eliot delved deeply into the inner workings of the harmonic writing. The famed funeral march carried extra weight when played by the raucous 18th century trumpets and horns. A chipper solo on the principal oboe led off the Scherzo, the rumbustuous dance movement, and another of Beethoven's innovations.
 The last-minute switch of the Third and Fourth on the program might have something to do with the Prometheus overture. Beethoven took the principal theme for the finale of the Eroica from the concluding part of that ballet. He developed this simple theme into a bewildering set of variations, including a colossal fugue. The O.R.R. responded to this superb material, lending grace and lift to the variations, bringing the whole piece home with its powerful final chords.
The Fourth is one of the less frequently played Beethoven symphonies. It usually serves as a curtain-raiser, either to one of its more famous brethren or some grandiose work by another composer. In moving it to the second half of the concert, Sir John Eliot made the Fourth stand on its own merits. The slow, dramatic introduction, leading into a whirling Allegro had an earthy, organic feel, thanks to the natural horns, wooden flutes and cat-gut strings.
The slow movement was played with delicacy. The muscular third movement, a tipsy Scherzo, might be the sound of Austrian rustics, stopping at the local heurige for a few glasses of spring wine, probably getting ready for the third movement of the Pastoral It led directly into the wild celebrations of the finale, played with enthusiasm and power despite an occasional squall from the horns.