Yo-Yo Ma joins the New York Philharmonic for opening night.
by Paul J. Pelkonen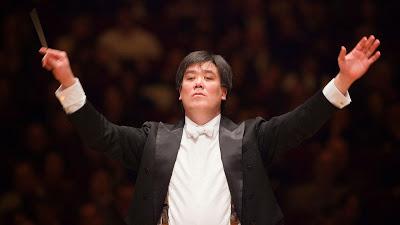 Alan Gilbert. Photo by Chris Lee © 2013 The New York Philharmonic.
The opening of the New York Philharmonic is usually an occasion for audience favorites--a strict adherence to the overture-concerto-symphony format that has been a winner over this venerable ensemble's 172-year history.
At Wednesday night's season premiere gala concert (which was filmed for broadcast later this year on PBS'
Live From Lincoln Center
music director Alan Gilbert broke that formula. This concert offered not one but two Philharmonic premieres, both featuring guest cellist Yo-Yo Ma. These were framed by popular works by Maurice Ravel, putting both works in context with the Swiss composer's Spanish-flavored works.
The concert opened with Ravel's
Alborada del grazioso
establishing Spanish flavor with plucked strings and a merry caper of woodwinds. This is a short work, a tone-poem in the form of a one-movement concerto for orchestra. Mr. Gilbert and his players plunged through the many layers of Ravel's writing, as taut percussion and pin-point string playing supported the little instrumental solos that quickly sparkle and fade.
A small arsenal of exotic percussion instruments were at the front of the stage for
Azul
, the Osvaldo Golijov tone poem written by this Argentinean composer specifically for Mr. Ma and first played at the 2006 Tanglewood Festival. This two-man battery included  Inspired by the blue skies above that western Massachussets venue, Mr. Golijov added exotic colors (mostly percussion) to the solo cello and orchestra creating a meditative four-movement work that thrills the senses and penetrates the subconscience.
With Mr. Ma's aristocratic tone leading the way, Mr. Gilbert and his players created a sense of well-being and bliss. Exotic textures were supported by the ruffle of birds wings (that's an actual instrument) and the rattle of drums from two onstage percussionists, who provided much visual stimulus as they switched rapidly between meso-American and African percussion instruments. They were joined by a "hyper-accordion" (amplified and with certain electronic enhancements) played by Michael Ward-Bergemann and Mr. Ma as the principal solo voice.
Although this work is concerto-like in form, Mr. Golijov prefers to label it as a meditation on the Baroque
adagio.
The long series of slow themes builds to a proper full-volume climax, with prominent parts for the brass and heavy strings, clearing the aural palate for the re-emergence of the solo cello and complex percussion lines. The opening sense of bliss finally returned, as Mr. Golijov's tranquil orchestration supported the nervous mutters and at last, the confident melodies of the cello. Dance rhythms emerged along with the exotic percussion sounds, in a piece that journeyed its way towards an exotic if pleasant destination.
That sense of the exotic continued with a Suite drawn from Astor Piazzolla's incidental music to the play
La serie de Ángel.
Here,
La muerte del Ángel, Milonga del Ángel
and
Resurrección del Ángel
were presented as another concerto-like suite, with slow-fast-slow movements appearing in a new orchestral arrangement by Ottavio Brunetti. Mr. Ma and Mr. Gilbert worked closely together, creating an exotic, misty atmosphere for the first movement, a powerful sense of rhythm and drive in the fast movement and then another transcendent, ethereal slow movement to depict the rise to heaven of Piazzolla's protagonist.
The concert ended with Ravel's
Bolero
, the famous exercise in orchestration and dynamic levels that remains a crowd-pleaser. Propelled by Christopher Lamb's steady, repeated snare drum, the various sections of the ensemble showed their stuff with lengthy solos for English horn, bassoon and saxophone. As the work reached its thunderous climax, Alan Gilbert brought the final, crashing chords home, and the assembled audience to its collective feet.