Marc-André Hamelin at the 92nd St. Y.
by
Paul J. Pelkonen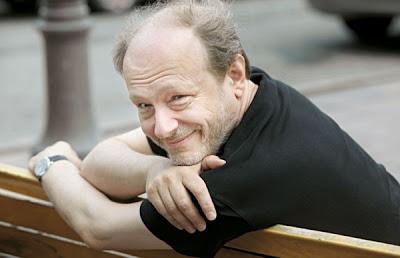 Pianist Marc-André Hamelin returned to New York on Saturday night.
Photo © 2016 Hyperion Records courtesy Hemsing Associates.
A visit from the pianist Marc-André Hamelin is an occasion for happines among New Yorkers. The Canadian-born, Boston-based virtuoso has recorded a vast array of difficult works by the likes of Liszt, Alkan and Godowsky. More recently, he has recently turned his attention to the more familiar works of Haydn and Mozart. Saturday night's recital at the 92nd St. Y's Kaufman Auditorium was focused almost exclusively on the latter, presenting six Mozart pieces in a brief but satisfying concert.
Mozart's eighteen piano sonatas rank among his most popular works with the general public. They draw something from his predecessor Haydn offering shining examples of the form before its transformation at the hands of Beethoven. Each sonata is a small, intimate utterance in multiple movement, meant to instruct Mozart's pupils (teaching was an important part of his income) and entertain an aristocratic, salon audience. They do not occupy the same heights as his late symphonies and piano concertos, but their forms are always polished and their tunes engaging to the ear.
On Friday night, Mr. Hamelin seemed eager to offer his spin on these familiar pieces, giving a relaxed and casual performance that was nonetheless formidable in its precise utterance of the written note. The concert started with a relatively early example of the composer's output, the twelve-minute
Sonata No. 4 in E flat.
Mr. Hamelin played with sweet and slightly thin tone, preserving the legato line through the three movements. It was followed by the
Rondo in A Minor
, offering three different thematic ideas anchored by and alternating with the initial thematic statement.
The "Hunt" Sonata (No. 18 in D Major) followed, a work commissioned as the last of a set of six for  Princess Frederike of Prussia. This marked Mozart's final experiment in the form with a tricky first movement that opened with Mr. Hamelin using both hands in unison before ornamenting the musical line with a series of trills. The complex second movement offered further rococo delights, with Mr. Hamelin moving nimbly through the carefully detailed arpeggios and complex counterpoint. This yielded to a fast and playful final movement, with the pianist's utter concentration making this difficult music sound elegant and look easy.
The second half of the program moved backward through Mozart's catalogue, starting with the Sonata in C. This work, beloved by listeners and students has become a classical cliché, with the consequence that it is not programmed much before a "serious" audience. Mr. Hamelin showed this to be fallacy with a bright and chipper performance, showing that this work, while popular, clearly deserves a fair hearing. The
Rondo in D
followed: not really a "rondo" but a one-movement exercise in sonata form with its own technical challenges.
For its finale, the concert returned to Mozart's relatively early period with the Sonata No. 5 in G Major. This is an example of Mozart at his most economical, with terse but memorable themes, an abridged development, and a challenging final movement that makes this work popular with particularly sadistic piano teachers. Here, Mr. Hamelin gave his own lesson in the perfect execution of form, with his fingers extracting colors and sound from the black and white written page. Following this short recital, the pianist obliged his fans with two carefully selected encores, a fast and cheerful movement from Haydn and a more dolorous one from Schubert, itself a harbinger of darkness.